Stephanie Calderon's first two days in Alaska were not at all what she expected. A week prior, Calderon was laying on a beach in Mexico, enjoying the sun and reminiscing about her recent graduation from high school. Now she was standing in the cold rain, far from her cell phone and computer, trying to tie knots in a wet rope. Earlier in the year, when she signed up for the STEP Student Expedition with NOLS Professional Training, Alaska sounded like fun. Now she was miserable.
But there was no other option—the tent had to be set up—so Stephanie kept working.
Later, while sitting around a fire, the students on Calderon's course talked about the difficulty of completing tasks in inclement weather. One student explained that, although she was challenged by the weather, Calderon's positive demeanor prevented her from complaining.
"This set the attitude for me. [I realized] the importance of remaining positive, no matter how bad things are, because it impacts other people's actions," explained Calderon, who quickly fell in love with NOLS.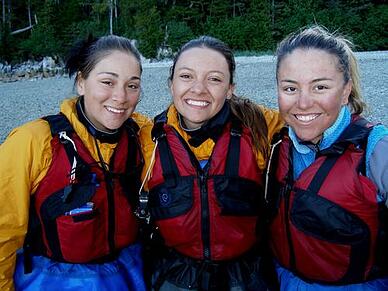 Stephanie (far right) on a beach in Alaska. Photo credit: Tracy Baynes
When she returned and started college at the University of Arizona, the lessons learned on the expedition served Calderon well.
"Having experience living in close quarters [on course] made it a lot easier to live in a dorm. NOLS taught me the necessity of communicating about things that aren't working," said Calderon. "On course, you couldn't run away to your room—you had to deal with it there."
The following summer, Calderon returned to STEP as an intern, where she was surprised to find herself acting as a role model to the students. This rewarding experience, combined with continued correspondence with NOLS instructor Lynn Petzold, inspired Calderon to pursue further work with NOLS.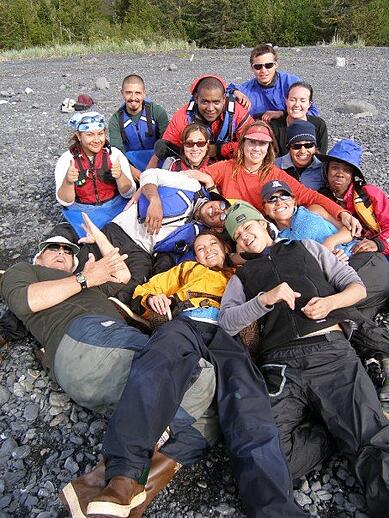 STEP Student Expedition 2006. Photo credit: Tracy Baynes.
In May, Calderon will start a fellowship at NOLS Pacific Northwest. She hopes this experience will eventually lead to an instructor course.
"If I could be as amazing an instructor as Lynn and have a powerful impact on other lives … that would be great!" Calderon said.
Alison is the NOLS intranet manager and a NOLS instructor.