Last summer, NOLS grad Scott Bass and his 12-year-old son, Tyler, travelled to Wyoming to summit the Grand Teton. The second highest peak in Wyoming at 13,775 feet, the Grand towers sharply above Jackson Hole valley. Even though Scott hadn't climbed in the high mountains in 22 years, he felt like it'd only been a week since he got off his North Cascades Mountaineering course. Skills he learned at NOLS came back naturally as they kick stepped through 2011's epic snowpack up Garnett Canyon to the lower saddle of the Grand.
"I think that speaks to the depth of the experience of doing it for a month in the Cascades," Scott explained. "It's embedded in me now."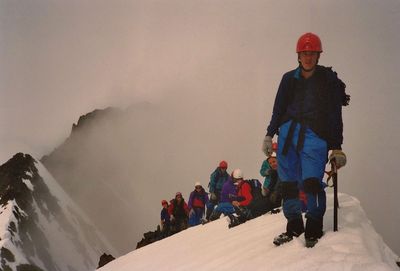 Scott Bass mountaineering on his NOLS course in 1989.
Now an investment advisor, the 43-year-old Atlanta, Ga. resident feels the lasting impact of his NOLS course beyond the backcountry in the business world and at home. One of the sayings that stuck with him is that "details save lives."
"That really resonated with me," he recalled. "Certainly in that environment it is important to set protection in the snow, be roped up properly, and use proper technique when you're travelling across a glacier, but it also applies to everything in life."
Scott keeps this in mind when dealing with clients and tells it frequently to his kids. For him, this means to "make sure that you think things through, that you take the right precautions. If you're going to do something, do it right," he stressed.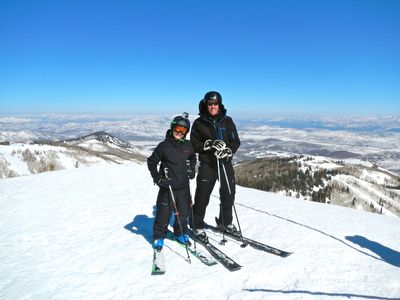 Scott and son Tyler on Jupiter Peak in Park City, Utah.
The same goes for Leave No Trace principals in the backcountry. Many people enter the wilderness without the minimal impact mindset.
"People don't come by [it] naturally. We're so used to thinking 'Oh somebody's going to come behind me and fix this or clean this up.'"
But for Scott, that just doesn't cut it, which is another reason he appreciates what NOLS teaches. He prefers the untouched wilderness.
"Maybe nobody's been there for days or weeks, at least that's how I perceive it," he said, "The experience that I have is with something that is pristine and new, I should leave it that way so that the next person can have the exact same experience."
To Scott, this is the most important lesson NOLS can impart on students.
Two years after his course in Washington, Scott donated to NOLS when he began earning regular paychecks. It's not the only organization he contributes to regularly, and he has a method for selecting them.
"I think first, 'What are the things that have had the most impact on me in my life, for me as a person?'"
NOLS is in Scott's top three, and he continues to give back to the school through the annual fund.
"I want to make sure that other people have the opportunity to do what I did, to experience the wilderness. I know that there are people who can't afford it and programs that need additional funding. I want to help support NOLS."
To learn more about the NOLS Annual Fund and Campaign NOLS: Endowing Our Core Values, visit NOLS Giving, or contact us at (800) 332-4280 or development@nols.edu.