The mission of the National Outdoor Leadership School (NOLS) has always been to be the source and teacher of wilderness skills and leadership that serve people and the environment. On Earth Day, NOLS locations will bring these backcountry practices to the frontcountry by taking part in events in their respective communities.
The staff of NOLS Alaska will be hitting the road this Earth Day, literally. The crew is planning to tackle their annual cleanup of Farm Loop road—a three-mile stretch of road that leads up to the Palmer headquarters.
The cleanup, which is a part of the annual staff orientation day, happens each spring once the snowmelt has progressed enough to allow for it. This year, the orientation day has been scheduled to coordinate with Earth Day.
"After our long winters, the receding snows offer any number of roadside 'treasures,'" said Don Ford, NOLS Alaska director. "It is a great time to show our new staff what is able to be recycled at the Valley Recycling Center, to show our neighbors that we care, and to have a good time. The most unusual find of the day always gets a laugh!"
The NOLS Southwest staff will also be supporting Earth Day by getting involved in Let's G.O! (Get Outside) on Saturday, April 21. Supported by other organizations such as 4-H, Sierra Club, and Parks in Focus, the event will have different outdoor activity stations (play-stations), for children and adults that focus on getting active in the outdoors and creating healthy communities.
The entire NOLS Southwest staff will participate in the event and will host several play-stations, including include learning to make bracelets and key chains using old webbing and cordelette and an orienteering/treasure hunt station, as well as assisting with set-up and breakdown of the event and serving lunch.
"NOLS Southwest is excited to be working with the other sponsors of this event to provide an opportunity for kids and families to get outside and celebrate Earth Day," wrote Nick Cross, assistant director at NOLS Southwest. "We as a branch have been making an effort to get more involved in the Tucson community, finding ways to volunteer and make positive contributions to events/organizations that we identify with."
NOLS Headquarters and NOLS Rocky Mountain, both located in Lander, Wyo., are teaming up and joining a number of invaluable community partners to make two projects happen over the weekend. NOLS is co-sponsoring a riverbank stabilization project in Red Canyon on April 20 and a community garden build at two locations on the Wind River Reservation on April 27. At both events, volunteers will be working with students from local schools in an effort to educate attendees about the environment while building stronger community ties.
On April 20 in Red Canyon, students and organizers will plant willow cuttings along the banks of the little Popo Agie with a group of students from Lander Middle School. Working with the Popo Agie Anglers, Trout Unlimited, Wyoming Game and Fish and the Popo Agie Conservation District the group not only be preventing erosion but also teaching a Red Canyon place-based curriculum. For more on this event, check out our recent blog post about the first step.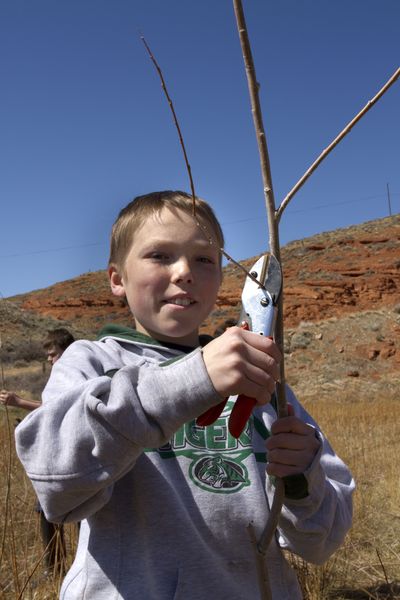 After students harvested willows early this month and soaked them for a few weeks, they are now ready to be planted along Wyoming river banks. Lindsay D'Addato photo.
On April 27, Lander NOLS folks and partners are fully psyched to get their hands dirty alongside students from the Fort Washakie Charter School to build raised beds and fencing for two new community gardens in Ft. Washakie. The project is the brainchild of Fred Groenke, an avid farmer, teacher, and director of the Wind River Native Science Field Center. The project was designed to create public awareness of the importance of preserving our natural environment and developing and maintaining sustainable growing practices that promote healthy lifestyles and connect us with the natural world. We at NOLS are providing volunteer support and organizing a nutritious lunch for volunteers. And on that note, we should give thanks where they are due to BOCES Green Construction, and the Wind River Diabetes Program for their support as well as Apple Valley Market and Mr. D's Grocery for answering the food donation call.
So come on out to one of these amazing events in celebration and support of your local NOLS community and the larger, global community that you are a part of!
Casey worked as a writer and PR specialist for NOLS.