NOLS senior field instructor and Rocky Mountain River Base Manager Phil Henderson has reached Everest Base Camp and continues to report back from his expedition on Mount Everest. The following are his first notes from Everest Base Camp: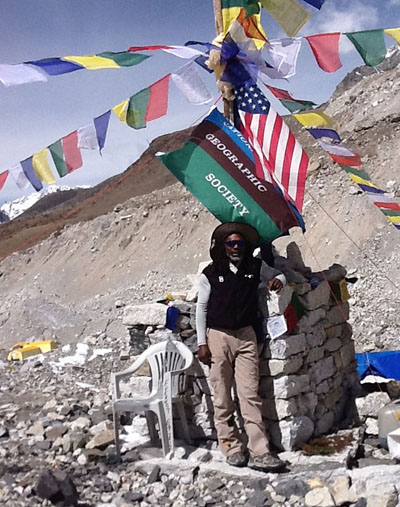 Phil Henderson
March 30: We are now in the high alpine environment. Hiking over the shoulder of the terminal moraine on the Khumbu Glacier, we passed an area where Chortens have been built to honor some of those who have lost their lives in the Himalayas—a reminder of the dangers we face, and the risks we take to travel and climb here.
As I passed a series of Chortens, I recognized a name forever etched in the big granite stone: Scott Fischer, 1996. The stone is painted white, and the letters are painted black. The stone is covered with fresh prayer flags, a sign that he is remembered each year. As I walk past this spot I am reminded of the people who have been, or could be, in my shoes.
The fact that I am here is a result of time spent working, skiing, climbing, watching, or just listening to people with much more experience than me, people who took the time to help me gain the skills and experience to make this journey.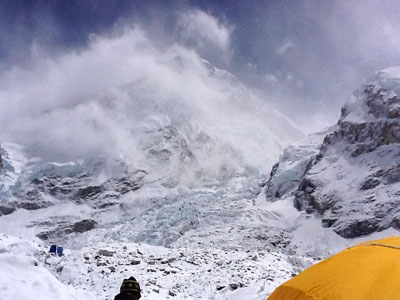 Everest Base Camp
April 3: Third day in Everest Base Camp (EBC): Spent yesterday getting installed (our base camp crew is amazing). We are actually camping on the glacier, so the rocks and ice need to be moved to make flat spots. Our Nepali crew makes everything possible. The Khumbu Icefall is fixed, so we will be ready to climb after the Puja [prayer ceremony] in a few days. Lots of serac falls again last night, I think this will be a nightly occurrence.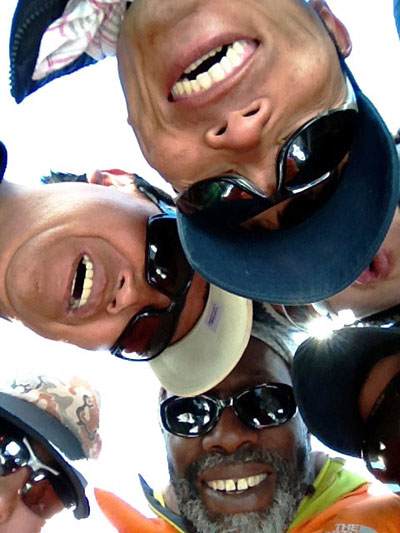 Clockwise: Panuru Sherpa (our Sidar) from Phortse, AnKaji Sherpa from Makalu, Tendi Sherpa from Solukhumbu, Phil Henderson and Mingma Sherpa from Taksindu.
April 7: Last night was a rough night. It snowed a few inches and I had a headache, but was better in the morning. Another acclimation day spent hiking around EBC. Met with Luanne at the medical clinic, and chatted with David Brashears for a brief moment.
We made more adjustments to our establishment, and enjoyed the warm morning weather. Since we are camped on an active glacier things move. Slowly, but they do move. I hear rocks moving on the glacier at night, as well as big seracs falling and avalanches that wake me from sleeping.
We often have discussions about why we climb mountains, or go on expeditions. Camaraderie is built within the group—in our case this also means our Nepali staff. But the sharing of stories, emotions, in sickness and in health is truly the bigger reason. Standing on the summit will be but a few glorious minutes within months of time spent with the group, eating laughing, and being cold. Yeah, sound like a NOLS course? Similar, but we get to drink scotch and watch movies in base camp at night.
April 10: The average daytime temp is around 47 degrees; however, with the solar gain it can get up to 80 degrees in my tent during the day, and the nighttime temps are dropping to about 21 degrees and below. Base camp life consists of getting up around 6:30 (cold!), breakfast around 8, and then group discussion for the day. Sometimes we need to scrape rock from the south-facing slope of ice that feeds our water pool to keep it full. Daily maintenance of personal tents—they melt out as well, lunch around noon, and maybe go bouldering on the ice-fall or hike around Manhattan (base camp central).