NOLS Southwest participated in an unusual fundraiser for the NOLS Annual Fund two weeks ago.
Every year at Summit Hut's outdoor "Sidewalk Sale," Southwest branch staff hosts a booth and mingle with customers and other local non-profits. This year the Tucson, Ariz. gear shop rented a dunk tank. Representatives from the non-profits sat above the tank and raised funds for their organization at $1 per chance to drop them into the pool.
Decked out in a woman's bathing suite, bathing cap and wig, NOLS Southwest's Special Project Manager Andrew Megas-Russell took to the tank for the benefit of NOLS. Andrew heckled the crowd, took several dunks, and managed to raise $88 for the NOLS Annual Fund during his hour in the tank.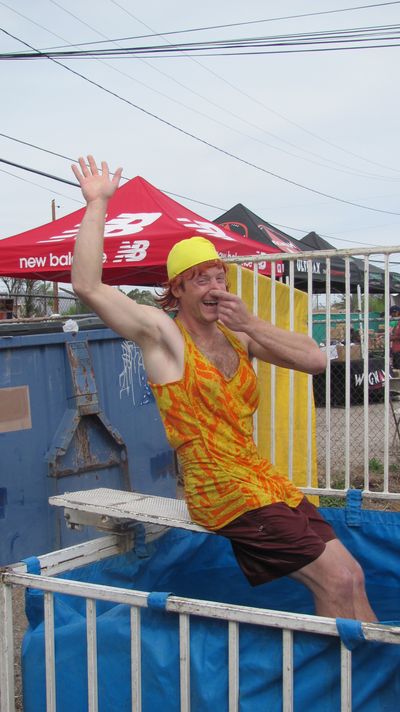 NOLS SW Special Project Manager Andrew Megas-Russell prepares for his next dunk.
Last week, while the branch directors were in town for their bi-annual meeting, NOLS Southwest Director Lindsay Nohl hand delivered the money to the development office in Lander, Wyo.
Thanks Andrew, Lindsay, and everyone down at NOLS Southwest for their support of the NOLS Annual Fund and Campaign NOLS!