What do you get when you mix 120 middle schoolers, branch loppers, and a need for willow cuttings to stabilize cut-banks along the Little Popo Agie River? You might be thinking missing digits, but on a beautiful spring afternoon this week, the answer was 700 willow cuttings and a highly successful first installment of the Red Canyon River Bank Stabilization project.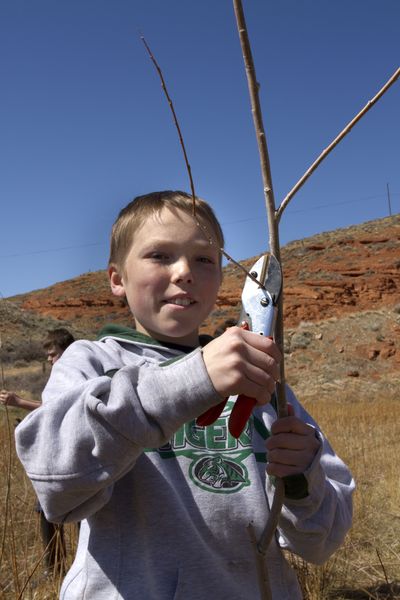 One student trimming a willow cutting at Red Canyon. Photo credit: Lindsay D'Addato
We felt incredibly lucky to have such a positive and motivated group of students from the Lander Middle School come out to Red Canyon for the afternoon on Tuesday. Along with harvesting and trimming willows, students rotated through a series of classes, including: a macro-invertebrates class from the Popo Agie Conservation District's Dave Morneau; a fly casting clinic; a geo-caching tutorial; and a Dangerous Flora and Fauna of Red Canyon class by WMI's own Anna Gast. It was a great opportunity for students to explore the many ways that they can enjoy the amazing lands surrounding Lander.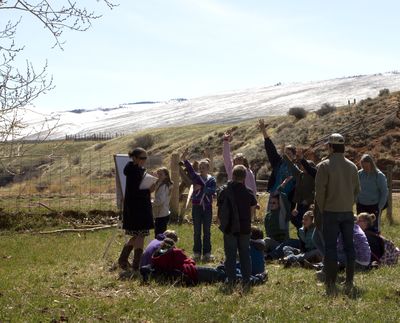 Students eagerly participated in a class on Red Canyon flora and fauna Tuesday afternoon. Photo credit: Lindsay D'Addato.
It was smiles all around as volunteers from the Popo Agie Anglers and teachers and staff from school shuffled students through classes and willow cutting. We want to express thanks to Nan Slingerland, Donn Kesselheim, Gary Blackwelder, and The Nature Conservancy who gave us permission to harvest on their land.

An LMS student learning the ins and outs of the fly cast. Photo Credit: Lindsay D'Addato
The willow cuttings that were harvested at this event are going to soak for the next two weeks, and will be planted at the Red Canyon Public Fishing Access on April 20th from 12pm – 3pm with the help of the same group of all-stars from the middle school. We're also planning to continue developing the Red Canyon-specific curriculum.
If you are interested in volunteering at the planting event on April 20th, please send an e-mail to David Clark-Barol, ES&S intern, at david_clark-barol@nols.edu.
Check out a video of all the action at the County 10 website.