NOLS senior field instructor and Rocky Mountain River Base Manager Phil Henderson is making his way through Nepal this week en route to climbing Mount Everest. He is working with a team of North Face athletes and researchers, commemorating the 50th anniversary of the first American ascent to the peak. Learn more about the expedition by on the National Geographic or the North Face blogs. The following is his first note from the field: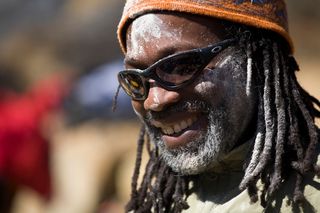 Phil Henderson
"With this being my fourth trip to the Khufu region of Nepal, I thought I knew what to expect. I have always come here in the winter, so to see wild flowers in bloom and the Magnolia trees blooming as well is a bit different. NOLS graduate Pasang Chuttin Sherpa has proudly displayed her NOLS diploma on the wall of her mother's tea house and lodge. Pasang is joining another expedition to Mount Everest this season, so I hope to see her on the mountain. Arrived in Namche Baazar on market day which is always a treat. We should end our long trek to Everest Base Camp (EBC) soon. Sad to have missed Bahati's [Phil's daughter] fourth birthday yesterday, I was able to call though."
Casey worked as a writer and PR specialist for NOLS.