As a sophomore in college, Chris Beeson went backpacking with his school's outdoor program and fell in love with the type of education that occurs outside.
"After that, I went through the school's leadership program and started leading trips for the outdoor program. This experience made me realize what I wanted for a career: to work for NOLS," said Beeson, who became an instructor in 2000.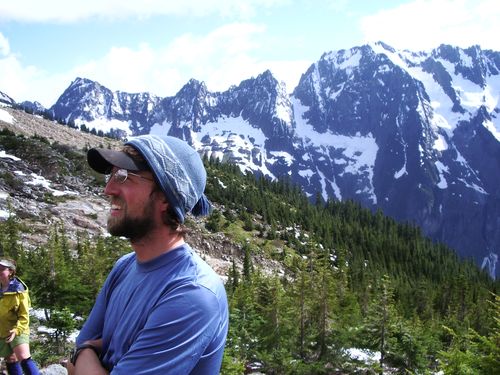 Chris Beeson in the Cascades. Photo Credit: Chris Beeson
Over the past two years, Beeson's work for NOLS was primarily instructing Professional Training courses. Beeson says this experience was particularly rewarding because of the clients.
"Clients on NOLS Professional Training courses come to NOLS as an intact team with a defined purpose or goal. This shared commitment allows for deep learning to take place faster; in four to six days the client can get to the same place (developmentally) as students on standard-length NOLS courses," said Beeson.
Working with the clients at NOLS Pro inspired Beeson to return to school. With his own goal defined—to learn more leadership tools and expand his set of frameworks—Beeson is now working toward a Master's in education, focusing on organizational learning and leadership development, at Harvard University.
For Beeson, the importance of NOLS Professional Training courses stems from the curriculum's applicability to a range of organizations. One client that Beeson believes embodies this flexibility is the Building Goodness Foundation.
"On the surface, it's not the most natural fit: Building Goodness is an organization that builds houses and community structures in areas like Haiti, while NOLS operates in the wilderness. But the long-standing relationship between NOLS Pro and Building Goodness demonstrates that the NOLS model for risk management and leadership is transferable beyond the wilderness," explained Beeson. "Because the material is tangible for everyone, NOLS can effect bigger change in society."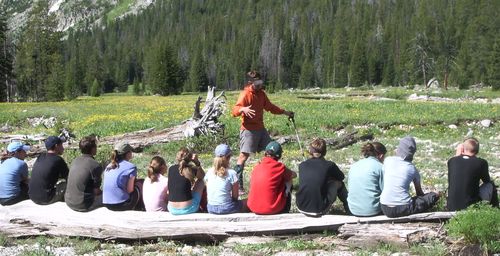 Beeson teaching in the New Fork Valley, Wind River Range, Wyoming. Photo Credit: Chris Beeson
When asked about an outdoor-related achievement, rather than referencing a personal triumph, Beeson noted the accomplishments of students on one of his NOLS courses.
"Of all the open enrollment courses, Backpacking Adventures often produce the highest learning outcomes. Kids that age [14-15] just soak up knowledge. Ours was a group of high-energy kids who were a ton of fun. [I enjoyed] seeing how much they changed and grew, especially over the long independent student group expedition," remarked Beeson. "Hearing their stories at the end made me really proud of all that they had accomplished."
For Beeson, group accomplishments have greater significance than personal triumphs, particularly in an outdoor setting.
"In the end, I love the bond with friends and community that results from time spent outdoors," he said. "There is such potential for deep relationships and deep learning."
Alison is the NOLS intranet manager and a NOLS instructor.