Since the first successful ascent in 1953, there have been many attempts by those looking to add their names to Everest's history books. Over the last 59 years, there have been 5,104 successful ascents to the summit by 3,142 individuals. Out of those numbers there is still one thing missing: the first African American male to summit Mt. Everest. Phil Henderson is looking change that this spring.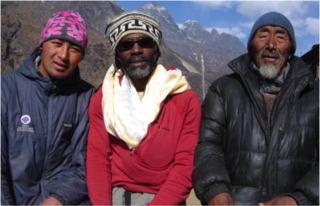 Phil's journey to the top of the world started long ago in a much lower place. The story of how Phil came to be where he is today is an incredible one. In 1986, while playing college football as a free safety, he sustained hairline fractures in his third and fourth cervical vertebrae. The injury ended his football career. It would be over a year before Phil would fully recover and return to a healthy and normal lifestyle. From that point on, he has lived a life that most people could only dream of.
He learned about the National Outdoor Leadership School (NOLS) in 1991 and the next year came to Lander, Wyo., for a Semester in the Rockies. In 1994 he returned to NOLS for his Mountaineering Instructor Course and has been working around the world sharing his knowledge and love for the outdoors with hundreds of students ever since.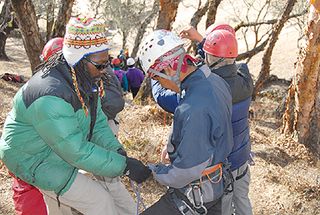 Phil has shared his wealth of knowledge and passion outside of NOLS, as well. He has worked both in his local community and climbing schools throughout the globe, including several years as an instructor with the Khumbu Climbing School (KCS) in Nepal. The goal of KCS is to increase the safety of Nepali climbers and high-altitude workers by encouraging responsible climbing practices in a supportive and community-based program. It is there that Phil was afforded the opportunity to work alongside Sherpas of the area teaching leadership skills while learning from them at the same time.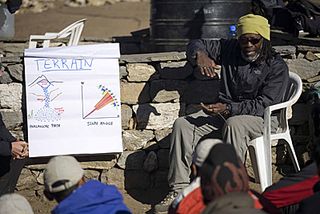 A veteran mountaineer, Phil has led many expeditions on Mt. Kilimanjaro, Mt. Kenya, and Denali, but Everest is a completely different animal. Reaching the summit will require climbing 29,029 feet (about five miles above sea level), enduring harsh environmental conditions including temperatures ranging from –80 to 100 degrees Fahrenheit, winds gusting over 200 miles per hour, and an atmospheric pressure only four pounds greater than Mars at the summit.
During his diverse and global career as a wilderness leader, Phil has become an exemplarily role model to all who know him. In his current venture he will not only try to make history, but broaden the awareness of the benefits and accessibility of the outdoors to minorities, specifically African Americans.
You can follow Phil and the rest of the Expedition Team's progress during their climb by visiting the National Geographic and The North Face website blogs.