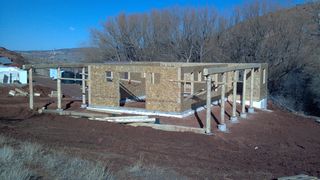 Construction at the Wyss Wilderness Medicine Campus is rolling forward with carpenters framing the floors and walls of the caretaker residence and the anticipated shipment of the trusses and lumber package for the main building. Bids from electrical and mechanical subcontractors have been evaluated and the work has been awarded to Inter-Mountain Electric, Rawhide Plumbing, Sweetwater Aire, and Mechanical Innovations and that rough-in work will proceed immediately.
We have also moved forward with selection of a well driller who is already working with Wyoming Department of Environmental Quality to design a cased well expected to be 1,100-1,300' deep. Structural steel shop drawings have been approved and fabrication for floor girders and plates is in process. Final phase drawings have been delivered for the residences and remaining final phase plans for the main building are scheduled for March 6th. Neighborhood utility upgrades are on schedule which allows us to schedule trenching for new power feeders into the campus transformers.
Telecommunication connectivity challenges are being countered with an emerging microwave system and ongoing research concerning optimal placement of any amplification and antennae for cell signals. The Popo Agie Anglers will partner with NOLS, Wyoming Game and Fish, Trout Unlimited and local middle schools to spearhead a willow planting along the public fishing access to improve fish habitat and to augment existing revetments which stabilize our flood plain pastures.
Central Wyoming College students will be surveying the historic ranch buildings on the property and will produce a folio which will provide curriculum about the previous uses of the property and the prehistoric as well as pioneer-era evidence that has survived. Remaining uncertainty surrounding costs is receding as costs are finalized and 27% of the project has been expensed. We continue to expect substantial completion in September of this year.