When students graduate from high school, they often travel to a resort on a sunny beach to celebrate their freedom. In 2001 Sam Hagler decided to break this trend and, fresh out of high school, chose to celebrate graduation his own way by cycling across the country.
When his father asked what charity he would be riding for, Sam wasn't sure at first but then thought of his grandmother and her multiple sclerosis. Soon after, he began his self-supported tour in support of MS at the age of 18. This trip would be the first of many future cycling adventures taking him all over the world.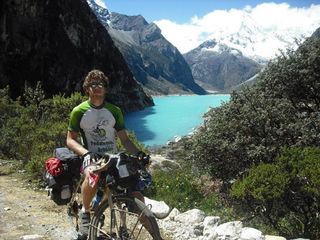 Sam Hagler
A graduate from Northern Arizona University with a B.S. in parks and recreation management, Hagler is also a NOLS alumni who completed a Pacific Northwest Backpacking course in 2005. After college he joined the Peace Corps and spent the next two years in Paraguay involved with several conservation projects including Procosara and Guyra Paraguay.
Driven by his love for the environment, he then organized a 10,000-mile solo bike tour through 15 countries to raise money for saving the San Rafael Reserve. Beginning in Paraguay and ending in the United States, Sam described his journey as "the trip of a lifetime… for sure!" His "trip of a lifetime" raised enough money to allow the Conservation Alliance in Paraguay to purchase 20 acres of jungle in the San Rafael Reserve.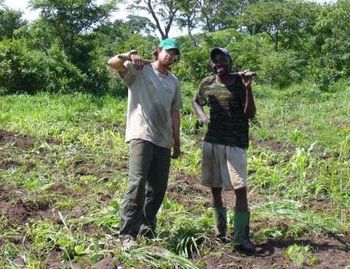 Tim McKinley
Sam is now teaming up with good friend and fellow cyclist Tim McKinley to raise $5,000 for Ride For School Gardens. Tim is also a returned Peace Corps volunteer who shares Sam's love for both the environment and cycling, having toured parts of Zambia while volunteering in Africa.
During his time with the Peace Corps, Tim worked as an agro-forestry extension agent on a variety of production and conservation projects, including training communities in nutritional education through vegetable gardening in rural or urban areas. Now back from abroad, Tim shares his love for gardening by working with the school gardens at Kinsey Elementary School in Flagstaff, Ariz. It is his passion for conservation and agriculture that sparked Tim's idea to work with Sam and organize the Ride For School Gardens fundraiser.
Ride For School Gardens is an alternative spring break bicycle tour fundraiser covering 250 miles in Northern California to raise awareness for the importance of school gardens as supplementary educational tools. Sam and Tim hope to raise $5,000 to support schools' independent gardening programs, and every small donation helps them reach their goal. Donations can be made for Sam and Tim's fundraiser by clicking here. You can also visit their Facebook page Ride For School Gardens to help spread the word.