Adding to a growing list of sustainability accolades, NOLS Southwest was recently recognized for its "wise water management" by Tucson Water's WaterSmart Business Program. The program helps business owners and managers set goals to conserve water, save money and contribute to a sustainable community. In Tucson's desert climate, water scarcity is a serious concern, so improving water efficiency is a logical and significant action for NOLS SW.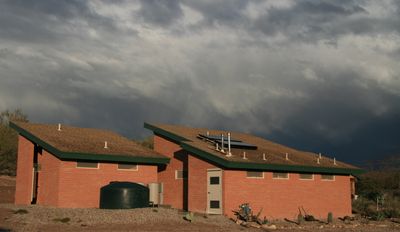 A passive solar water tank on the NOLS SW campus./Photo credit: Ashley Wise
The WaterSmart Business Program provided a list of suggestions for improved efficiency based on an evaluation of the NOLS SW water bill and an on-site evaluation. To build on the SW's previous efforts, including low-flow showerheads and rainwater catchments, the audit suggested additional rainwater catchments, drip irrigation, and expanded capture and use of gray water. Considering the NOLS SW track record, you can expect to see many of these efficiencies in place before too long.