John Abel has been a NOLS instructor since 1991. When asked how he got started in outdoor education, Abel described two seemingly disparate camp counselor jobs.
"My first was about having a lot of fun—with a few rules," explained Abel. "My second job was at a residential program for emotionally disturbed kids who had lived really different lives, but there was nothing different about their ability to find something about being in the outdoors that inspires deep personal growth."
Instructing at NOLS was a natural fit for Abel: NOLS courses combine the fun of his first job with the personal development he valued at the second job. For the past two years, Abel's work with NOLS has been primarily on NOLS Professional Training courses. The clients for these courses come to NOLS as an intact group, which Abel asserts produces faster development.
"[NOLS Professional Training clients] are often mission driven and want to know: 'How can I be a better director? How can I further the mission?'" explained Abel. "There's something to be said for being open to the leadership curriculum and receiving feedback. I've found that this is ubiquitous on NOLS Pro courses."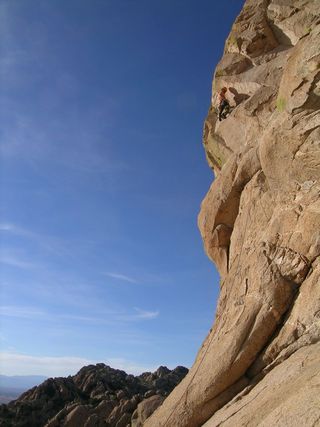 John Abel climbing
Finding inspiration in clients' eagerness to further their professional lives, Abel took a break from instructing and enrolled in a master's program at the Leadership Institute of Seattle. In June, he earned a master's in leadership and organizational development. As many NOLS Pro clients find, returning to the same work environment after an intensive period of learning can really emphasize personal changes.
"I didn't work [for NOLS] much during the master's program, so when I returned to doing the same work at NOLS Pro, it was easy to see the personal growth that resulted from my studies," said Abel.
A key to personal development, Abel noted, is recognizing how you really act. This can be difficult to achieve in a familiar setting, which is why Abel values the uniqueness of NOLS Professional Training courses, particularly the Leadership Navigation Challenge (LNC).
"Because the LNC is unlike any work environment, people often experience an 'Aha' moment when they move past their personal perceptions and can see, 'yeah, that is how I show,'" said Abel.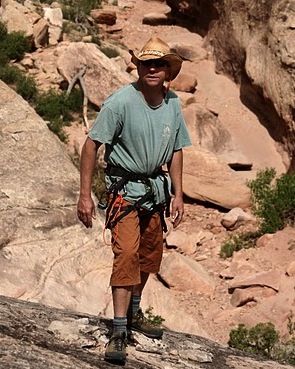 John Abel
The moments when expectations become clear and perceptions align are Abel's favorite feature of NOLS Professional Training courses. For Abel, facilitating this process is his greatest achievement in the outdoors. When asked for an example, Abel referenced a course in Okinawa, Japan.
"When I first meet the client, I'm always mining for curriculum-related information. With this client, I recognized a common comment was, 'I wish my employees would do what I ask,'" Abel recalled. "On the last day, I made the decision to scrap the agenda and address this frustration. A lot of people wanted to talk about it, and we were able to gain some clarity on how to make expectations clear and how to align people's understanding of their job."
Alison is the NOLS intranet manager and a NOLS instructor.