Hello from the intern desk at the NOLS Rocky Mountain Branch! We, Kay Sherwood and Julie Stetson, are excited to begin our newest adventure as the branch's spring interns. In our first week, we've been learning a lot about our new jobs and about each other. As it turns out, we are both extraordinary artists! So below, we have included some brief bios as well as some museum-quality portraits of each other.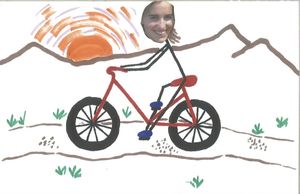 Kay is excited to return to Lander 8 years after she did a summer NOLS course in the Wind Rivers. She moved to Colorado from Ipswich, MA to attend Colorado College, and has been living in the colorful state for the past couple years, most recently in Leadville, where she was an apprentice at the High Mountain Institute. She loves getting outside on a mountain bike, or skis, and has been enjoying climbing rocks in Sinks Canyon. So far she has been impressed by the exceptional friendliness of people around the branch!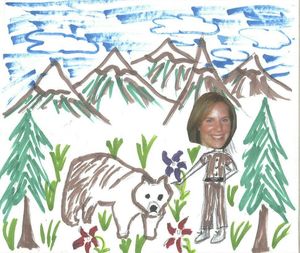 Julie grew up in Northbrook, Illinois which is a suburb of Chicago. When it came time to go to college, her main priority was to head West. At the University of Denver she majored in Geography and minored in Sustainability and Business. Before coming to NOLS, she spent a season at Grand Teton National Park interning as a naturalist and hiking as many Teton trails as possible. Though she has yet to take her first NOLS course, Julie is thrilled to be a part of the NOLS community and to make the most of her time here in Lander.
Already in the first few days on the job, we have helped hang a piñata, began to train on the ripstick, and eaten delicious meals at the Noble Hotel. We can't wait to see what other important and demanding tasks this internship entails, and we will do our best to keep you updated!