Under a cloudless, sunny day, the second and final phase of the NOLS Rocky Mountain solar array leaped ahead today. The crews started first thing in the morning, and by noon, about half of the 40 panels could be seen atop the transportation building in the middle of Lander, Wyo.
These 40 panels will complement the original 84 installed at NOLS Rocky Mountain in 2008 and will complete the original plan for the building's solar system. Both phases were made possible by Rocky Mountain Power's Blue Sky renewable energy program, which covered 80 percent of phase-two costs.
The array will generate an estimated 17,442 kilowatt hours, and the statistics will be displayed on a computerized kiosk, an element not installed in phase one, inside NOLS Rocky Mountain.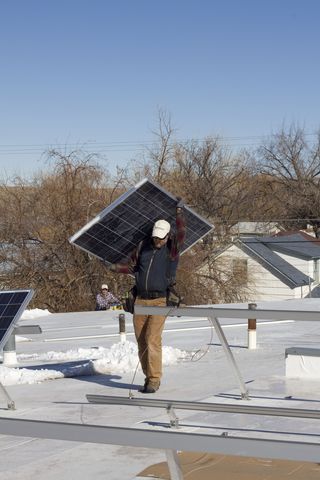 Lindsay D'Addato photo
Creative Energies, the same company that installed the first phase of solar panels, is running phase two. The installation may be complete as early as the end of the day today, but electrical connections to the grid will extend into next week. An estimated completion date for the entire undertaking is March 13.
Stay tuned for updates and photos.
Casey worked as a writer and PR specialist for NOLS.