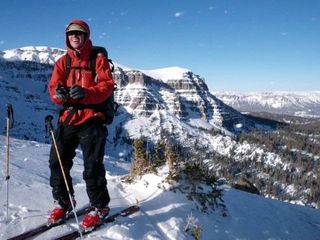 When Brian Fabel attended a job fair in Washington, DC, he had no idea what that fateful meeting it would be. He recalls talking with a NOLS marketing representative, who told Brian stories about the school's expeditions.
Brian remembers thinking, "I have to do this!"
An internship with NOLS Professional Training, a Winter Outdoor Educator course, a job as the operations assistant back in NOLS Pro, an instructor course, and four different positions within NOLS later, Brian has landed as the marketing coordinator for NOLS Pro, helping to spread the word about NOLS' customized training opportunities. Even after the launching his career at NOLS, Brian didn't really understand the school until he received a scholarship and took his first course.
"It was during my Winter Outdoor Educator that I saw how life changing NOLS courses could be. As I looked at my instructors I thought, 'I want to do what they are doing. I want to help others experience this,'" Brian recalled.
Brian still gets out into the field to instruct winter courses. His favorite teaching moments are when the weather turns really cold—students take care of each other, prevent cold injuries, and push through the tough work of doing simple tasks while winter camping.
As he approaches the five-year anniversary of his student course, Brian has been reflecting a lot on how rich his life is as a result of choosing NOLS as a career.
"The experiences I have gained through working for NOLS have provided sound judgment that transfers to all parts of my life."
In the past year, Brian has also become an advocate for staff giving and Campaign NOLS, spearheading a fundraiser at NOLS Headquarters in Lander, Wyo.
When asked why he supports NOLS financially, Brian's explanation is simple. "It occurred to me that returning my scholarship—the very thing that enabled me to participate in my first NOLS course—would be the best way to provide others the path of personal enrichment and professional development I have experienced."
For more information about Campaign NOLS: Endowing Our Core Values visit NOLS Giving, or contact us at (800) 332-4280 or development@nols.edu.