It's a human connection, support, and collaboration that keep us warm through cold winter days of February.
That and a really great cup of tea.
We're cozy here at NOLS, thanks to the benevolence of our friends at Two Leaves and a Bud Tea Co., as well as the cups of tea we all have our hands wrapped around today. NOLS and Two Leaves and a Bud share "true passion for all things wild and natural," notes the tea team. As such, they donate 1 percent of annual sales from their Rockies-inspired Alpine Berry to NOLS scholarships.
To add a crumpet to the deal, Two Leaves and a Bud is offering free shipping on orders made through Feb. 23 (that's Thursday, folks!). Click here to read about Alpine Berry, make an order, and support two kindred organizations with one mug.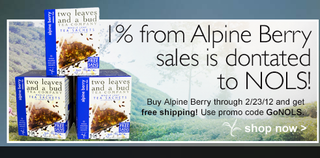 Casey worked as a writer and PR specialist for NOLS.