NOLS is the leader in wilderness education because of years of experience, thousands of experts, countless hours of internal education, and cutting edge research. The research NOLS conducts enables us and others to constantly improve and adjust our teaching styles, expedition planning, and more. For example, a visually impressive set of data is this word cloud: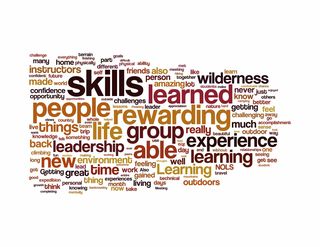 These are the words over 2,000 NOLS graduates used in response to the exit-survey question, "What did you find most rewarding about your NOLS experience?" The bigger the word, the more frequently it was used. Of course, additional findings came of this survey, but this was an immediate and easy-to-grasp result.
The NOLS research team, which collaborates with University of Utah, attended the 11th biennial Coalition for Education in the Outdoors Research Symposium Jan 13-15 and presented the findings of five studies. Watch a video of NOLS Curriculum and Research Manager John Gookin and NOLS Research Project Manager Mandy Pohja giving overviews of the following research.
Developing Lifelong Learners: Enhancing Dispositional Enjoyment of Learning through Optimal Engagement in Adventure Education Programs
In the spring of 2010, 47 college-aged students enrolled in three semester-long summer NOLS courses were invited to participate in this study. Based on experience sampling forms about two randomly assigned hour-long blocks each day over four week-long periods (one before, two during, and one after their course), researchers saw significant shifts in optimal engagement during and after courses.
"There is good reason to believe that immersion in adventure-based semesters can help foster the underlying nutriments of enjoyment and interest in learning, which are necessary to create lifelong learners."
Measurement of Challenge Type and Intensity in Wilderness Education Students
Prior to this undertaking, no scales to measure self-perceived challenge level existed. Scientific inquiry of the patters of challenge and growth may appear to merely affirm folk wisdom, but documentation establishes baselines for future experimental studies, NOLS researchers noted. What this undertaking generated was a three-pronged model of challenge—intrapersonal, interpersonal, and program and environment. Ultimately, as NOLS researchers wrote, "This connects this work to performance under stress, which has been identified by NOLS alumni as the leading skill they associate with their wilderness education experience, then use for their entire lives."
Understanding the Contribution of Wilderness Based Educational Experiences to the Creation of an Environmental Ethic in Youth
Students of 30-day or longer courses completing the course quality survey last year were asked, among other questions, if their NOLS experience made an impact on their environmental ethics and how. Data suggests NOLS courses have a positive impact on environmental ethic. "Students report that they are more aware of how the natural world works, have an increased self-awareness related to sustainability, and believe they learned how to apply Leave No Trace skills in their lives beyond the program," the study states.
Energy Demands of Wilderness Education Students
In the "biggest, most intensive study we've ever done at NOLS," as Gookin said, delved into energy expenditure, morphological changes, fitness changes, and caloric intake on NOLS courses.
Though much of the data is still being processed, a number of take-away applications have already surfaced. Not surprisingly, students increase cardiovascular fitness on courses, but an energy deficit shows up. "Dietary logs show that students typically had food available but did not eat the rations, probably because they were busy with activities," the study notes. "This shows that nutrition on expeditions has barriers beyond simple logistics. Proper nutrition includes ration logistics, nutrition education, cooking education, adequate supervision, and an atmosphere that promotes healthy lifestyles."
A final exciting note was that this study was unlikely to be the last of its type. This research demonstrated to researchers that courses can use simple tools to monitor energy balance, enabling them to run programs that are both challenging and healthy.
The Importance of Program Quality in Youth Development: Program Quality Indicators as Predictors of Outcome Achievement Among NOLS Participants
The purpose of this study was to determine the relationship between perception of quality and participant development. The results show that the qualities most predictive of overall participant development on a NOLS course are empowerment, prioritization of safety, and the presence of role models. NOLS believes it is important to focus on point-of-service qualities that can be affected by programmers.
For more information on these research programs and more, visit our research site.
Casey worked as a writer and PR specialist for NOLS.