Wyss Wilderness Medicine Campus continues to take shape with completion of foundation walls at the main facility. Steel forms, pictured below, are assembled to be perfectly level, square, and plumb.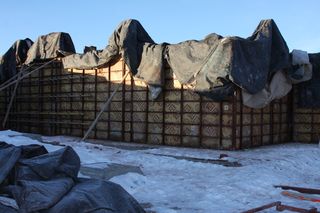 Before concrete is delivered, blankets are used to keep the cavity between the forms from accumulating snow. After the concrete is poured, hoses with circulating anti-freeze are draped over the forms and then covered by blankets once more.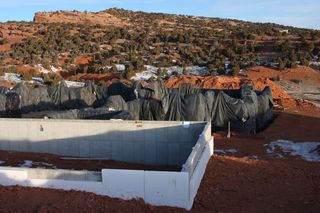 With mild January temperatures, we could probably get by with a day or two of supplemental heat. Instead, we're choosing to give the concrete heat and support for three days before peeling back the blankets and popping off the forms. Then the heat goes back on with blankets for a few more days.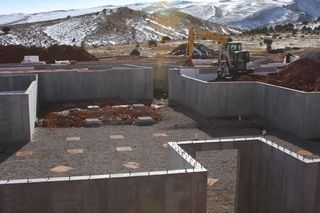 The resulting walls are pale when first exposed. The photo above illustrates the basement access door, diamond and square shaped pads for future columns, and washed stone that has been backfilled and tamped to a flat compated surface. Rain storage tanks will sit on the gravel between the posts.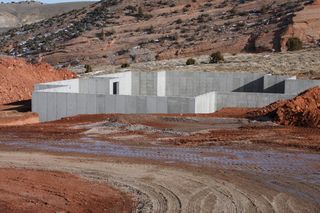 The walls top more than 10' in spots but backfilling dirt against insulation will limit the amount of wall that will stick up above outside ground level. No concrete will be visible from the outside when we finish- the wall will be completely insulated and covered with cement based stucco and a blend of different metal finishes.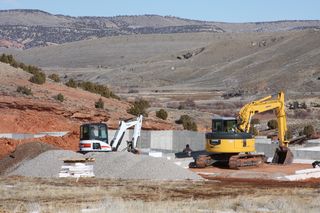 Six days after pouring, the excavators and loaders are packing dirt into the exterior nooks and crannies to establish the rough elevation of final grade. There will be a lot of hard use of the area right around the building so all landscaping will be put on hold until we are much closer to completion. For now, the limited snow and above freezing temperatures are keeping the site muddy and spring-like but we still have a lot of winter to go.