Last Friday, the Lander Chamber of Commerce presented NOLS with a special honor. During the annual Community Awards Banquet, NOLS was named the community's anchor business of 2011.
This award is presented to "a business that has survived the challenge of time with endurance and perseverance," traits NOLS has always rxpected of its staff, faculty, and students.
NOLS Alumni and Development Director Pip Coe, NOLS Rocky Mountain Program Director Chris Brauneis, and NOLS Finance and Investments Director Jeff Buchanan attended the annual Chamber Banquet Friday to accept the honor, which Chamber Board member Krista Lobera presented.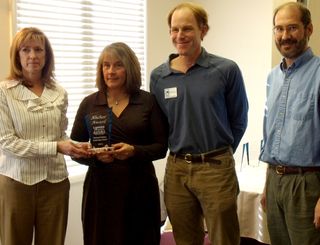 In 1965, Paul Petzold selected Lander as the perfect host to his unprecedented business idea: a school in which outdoor leaders would be molded. In the nearly 47 years since the first course embarked from Sinks Canyon, NOLS has developed into an international organization, still proudly based in Lander, Wyo.
As NOLS has expand from that first 30-day course in the summer of 1965, it has reached a point of educating 16,500 students annually about those things that mean the most to the people who make Lander home: outdoor recreation, backcountry appreciation, and wilderness protection.
It is an honor to be named a community anchor of Lander, and NOLS will only continue to find ways to give back to the community that has nurtured it from its beginnings.
Casey worked as a writer and PR specialist for NOLS.