If you've spent time in or around Lander, Wyo., on a NOLS course or otherwise, you've likely eperienced the access it offers to world class recreating. This week you have the opportunity to impact how these lands are managed in the future. Friday, Jan. 20 marks the end of the public comment period for the new Resource Management Plan (RMP) prepared by the Lander Field Office of the Bureau of Land Management (BLM). The RMP will provide instructions for the management of 2.5 million acres of BLM surface land and 2.7 million acres of BLM mineral estate in central Wyoming. For more details on the RMP, take a look at the BLM website.
The RMP's management prescriptions have potential impacts for both NOLS operating areas (including Split Rock, Sinks Canyon, Sweetwater Canyon, and ), and other popular destinations (such as Johnny Behind the Rocks, The Beaver Creek Ski Area, and The Bus at Baldwin Creek) in and around Lander.
Photo Credit: Brian Fabel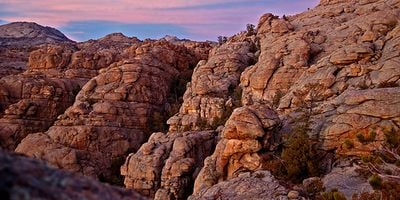 Sunset at Sweetwater Rocks
Up for debate is whether these popular areas remain under the current, more protective, Special Recreation Management (SRMA) designation or transition into the more permissive Extensive Recreation Management (ERMA) designation. This change is encompassed in a range of alternatives that the Lander BLM has developed for the region. Alternative C prescribes the most intensive resource utilization; B, the most resource protection; A, a continuation of the current RMP; and D, known as the "preferred option," a compromise between Alt. C and Alt. B.
Photo Credit: Rick Bieterman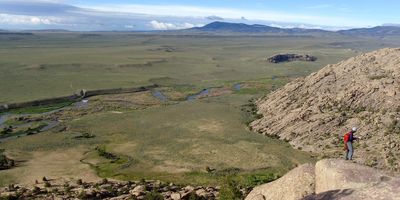 Views like this make the Lander Field Office planning area a spectacular place to recreate.
If you appreciate the amazing access available in the Lander area and want to protect these public lands for future generations, send a comment to the BLM. In your comment, specify support for an RMP that values and maintains the recreation options that define Lander and make it such a great place to live and visit.
Outcomes to consider:
Folks who enjoy climbing at Sweetwater Rocks (Split Rock and Lankin Dome) may want to support the closure of oil and gas leasing in that area. They should also consider supporting Alternative D for the National Historic Trails, which prescribes a five-mile buffer, preventing surface occupancy or controlled surface use with visual impacts. This condition includes the Sweetwater Rocks area.
Johnny Behind the Rocks: Mountain bikers, trail runners, horseback riders, and hikers who enjoy use of this area will want to express their support for its continued management as an SRMA closed to motorized use, and restricting mechanized use (bikes, etc.) to existing trails.
Sinks Canyon: Though the BLM land in Sinks Canyon is adjacent to State Park and Forest Service land, those who enjoy recreating in this area will want to express their support for keeping the area closed to motorized use (excluding county roads, highway, and private roads) and under management to enhance the area for climbing and hiking.
The Bus at Baldwin Creek: Mountain bikers, hikers, and trail runners may want to comment on the planned development of an informational kiosk, implementing closure to motorized use, and continued use of mechanized travel on existing roads and trails.
Comments can be submitted via the BLM website, an email to BLM_WY_LRMP_WYMail@blm.gov, or snail mail to Lander Field Office, Attn: RMP Project Manager, 1335 Main Street, Lander, WY 82520. The deadline is Jan. 20, so act quickly to be sure the BLM hears your perspective.