BEYOND Event - Saturday, January 7th, 2012
Written By: Nick Cross, NOLS Southwest Assistant Director
NOLS Southwest has been based in Tucson for the past twenty years; during that time we have run many successful courses in various areas of the desert southwest. Despite our long history in the area, many Tucson locals are surprised to learn that NOLS has an operations base in the community.
Recently, the folks at NOLS Southwest have made a concerted effort to get more involved in the local community. We have sought out partnerships with other like-minded organizations, spent time volunteering on various projects in the area and taken advantage of opportunities to get our name out there whenever possible. Slowly, we have been able make it known that NOLS is in Tucson.
So, imagine our surprise and excitement when we were contacted about participating in the Tucson BEYOND event, a commemoration of the tragic shootings that took place here just one year ago. The event, which took place on Saturday, January 7th, was an effort to transform the tragedy of last year's shooting rampage into a positive force focused on building community in Tucson.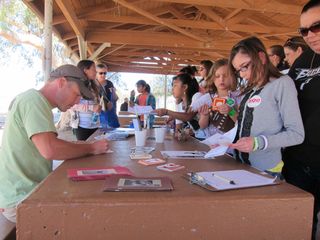 Lindsay Nohl, Nick Cross and Ally Vitale represented NOLS Southwest at the event, which was held in Reid Park, one of Tucson's largest parks. Yoga workshops, tai chi, live music, and an entire circuit of activity booths focused on educating kids and others about the outdoors were just some of the happenings taking place at the park on Saturday. The NOLS booth taught basic knot tying to a wide range of people who were participating in the event.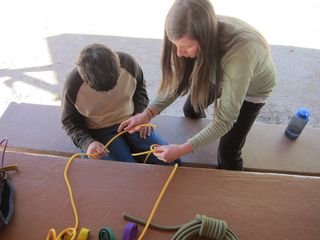 Being asked to be a part of this commemoration meant a lot to everyone at the branch and has re-enforced our desire stay involved in the Tucson community. For more information on BEYOND visit their website at http://www.beyond-tucson.org.