NOLS is thrilled to announce we met our year-end goal for Campaign NOLS! Thank you to all of our supporters—alumni, family, staff, and friends—who helped us raise $10 million before our Dec. 31 deadline. Together, we have secured an additional $2 million toward the campaign.
The final installment of our December Donors profiles features a family of NOLSies: all three kids are NOLS grads and the parents are long-time philanthropic supporters.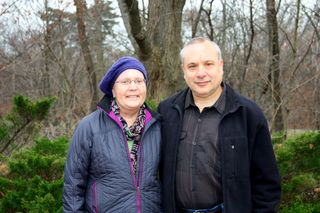 Teresa and Dan Raizen, long time NOLS supporters and parents of three grads.
When Teresa and Dan Raizen's eldest son, Nat, went on his NOLS course he brought a copy of Dostoyevsky's Brothers Karamazov—torn in half to save on weight. It was required summer reading for the high school senior who was the first of three Raizen children to attend NOLS.
"We'd only ever been car camping," Dan explained of his desire to foster an outdoor ethic in his children. "When Teresa brought up idea of NOLS it really resonated. I said right away, 'Oh that's perfect!'"
Nat came home from the Wind River Mountains with great stories about his course, and his younger brother Ben was listening. He decided to go on the Salmon Backpacking and Rafting course the summer before his junior year, and Claire, the youngest, went before her sophomore year. All three came back more mature, confident, and resilient.
"Maybe because [Claire] was younger, I noticed an increase in her maturity level and awareness of responsibility," Teresa noted. "She came back with more will to work and to take on things that she thought were a little scary before, laughing through the whole experience."
As Waldorf educators, Dan and Teresa appreciate NOLS' method of teaching. Waldorf-style education, at a basic level, is an interdisciplinary approach to learning. Both the NOLS and Waldorf pedagogies reflect a desire to help students become better people, imparting knowledge that goes deeper than its practical application.
"In Waldorf, you're not just pouring in skills … you're trying to make them as whole and complete as a human can be," Dan said. "NOLS believes that young people have the capacity for leadership and we need to find ways to awaken these abilities to make them, in a deep sense, much better people."
This shared philosophy is why Dan and Teresa are happy to support a school that also means so much to their kids. This year, they went beyond their long-time support of the NOLS Annual Fund to make a contribution to the endowment.
"We love the program," Teresa explained, "When you see what a benefit it is for your own children and can extrapolate that it's going to be a benefit for lots of people, that's what we want to do. We want to make that benefit more available and keep a good thing going."
Dan concluded: "Our goal is to help disadvantaged kids who would otherwise not have this opportunity. Beyond the broader aspect of supporting a place that does good work, we want to spread it a little more. That's important."