It's the giving time of year, and with more donations coming in every day, the Development department is buzzing. We are all excited by the prospect of reaching our $10 million Campaign NOLS goal by Dec. 31. For more information about Campaign NOLS and the NOLS Annual Fund, visit nols.edu/giving.
This week, we continue our December Donors profiles with a look at a Decade Donor, a designation for those who have given to NOLS consecutively for the past 10 years or more.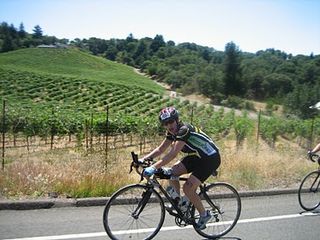 Alumni donor Daniella Hirschfield, biking in the Vineman Triathalon
Daniella Hirschfeld has been giving to NOLS for 10 years, since the fall after she returned from her semester in Australia. As a college student, she gave small amounts, $5 or $10 a year. A couple years ago, as she had the means, Daniella started her own foundation, the Green Guided Fund.
"I wanted to focus my resources on things I really care about, and NOLS fit into the picture not just of things I find important but also from a global environmental perspective."
Born a New Yorker, Daniella knew nothing about living in the wilderness before she went to Australia for her NOLS semester in 2001. As a student at Dartmouth College on the "D Plan," she was required to take a semester off to explore other forms of learning. Daniella wanted to do something interesting and inspiring during her sophomore spring; her mom recommended NOLS, since her stepsister had done a course and had a phenomenal time.
The timing for her semester worked, but Daniella had no idea how much her semester away from Dartmouth would influence her feelings toward her career. Today, Daniella works in environmental policy at the community level, helping local governments become more sustainable for long-term climate change.
"I attribute the idea of working for the environment to NOLS," Daniella declared. "I remember one lesson we had: in a hypothetical scenario Bongo falls, a waterfall we'd visited recently, was the location of a specific drug that would be a cure for multiple sclerosis. To access that drug they had to mine the area."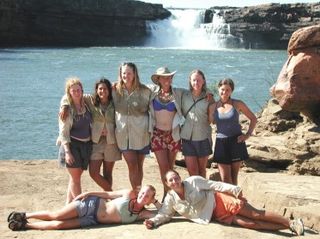 Daniella and her female coursemates at Bongo Falls.
The class sparked a serious debate, with students arguing for both environmental protection and medical advancement. It got her thinking about wilderness, and she hasn't stopped since. At her job in front country, Daniella often steps into multiple leadership roles as she works in different group contexts and settings.
"I am able to play the part that is necessary, stepping into an active followership role to empower my volunteers to do what needs to be done. That way, I can do the job side, and they do the leadership side," she said.
Daniella got a good taste of what that takes while in Australia as the leader of her group's Independent Student Group Expedition (ISGE).
"It was an amazing group and an amazing experience," she recalled, "I was surprised by the trust and confidence my team had in me. I enjoyed being in that role, enjoyed being part of the team and leading them in a successful small group expedition."
This nomination came after Daniella struggled with her slow hiking pace. She felt she was holding the group up and causing frustration, but as she grew as a hiker, she learned that where she stood in the pack mattered more than speed. Ultimately, she was able to overcome her own frustrations and perceived weakness to become a strong member of her team.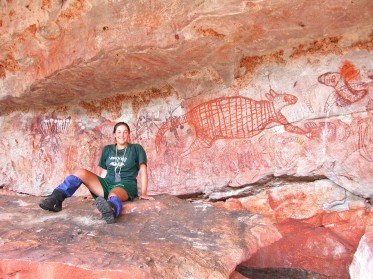 Daniella, enjoying the Aboriginal cliff art on her semester in Australia
"That's what makes NOLS the leader in the field," Daniella explained. "It's not just about a certain set of skills; it's about the whole package. It's about the team working together, self-confidence, and a whole range of skills, not just how fast you can pack your backpack. Finding comfort in the natural world makes it a unique and valuable experience."
Daniella has remained an active leader in the NOLS community through her local alumni chapter. This is because for her, NOLS is a big family.
"It's not one thing, it is collective. NOLS develops relationships with local individuals, and does career enhancement for employees."
And the NOLS family extends beyond NOLS branches and into the lives of alumni like Daniella.
"When you go on a hike with a group of people who have done NOLS, you instantly feel more comfortable. Especially when compared to random people from Meetup [a social networking site for groups], who you're not sure will be comfortable when the temperature drops to 30 degrees, or if they'll practice LNT. It enhances that family element."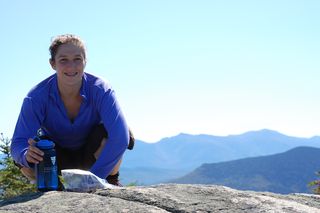 Daniella at the summit of Mount Cabot in New Hampshire
It is also important to Daniella that the school practices what it preaches. "NOLS isn't just leader in wilderness education, but also the leader in wilderness and environmental protection. They partake in protecting the places they use."
Daniella continues to support the NOLS and stay connected through her foundation's contributions to the NOLS Annual Fund.
"NOLS really did change my life, and I place a lot of value in that. It is somewhat cost prohibitive, and I wish more people could have the NOLS experience. By giving to NOLS, I am helping provide other people with the opportunity that I had."