"The whole goal is just to ease the congestion," said NOLS Rocky Mountain Director Gary Cukjati as he looked around the space that once—and will soon again be—the Gulch.
Efficiency of space is an improvement Gary worked into every aspect of the renovations currently being made to NOLS Rocky Mountain (RM). He described the building as it was as being much like a maze.
"We're hoping to straighten that maze out," he said during a tour of the current skeleton state of the renovation last week.
The portion of the RM that will gain the most in square footage is the Gulch, which will essentially double in size. This will not only ease crowding, it will also allow for more food storage out of the way. The new space will also feature a door to 5th Street here in Lander, which will encourage locals to drop by without fear of getting lost in the building.
Another space that will get a little extra room is the hallway that will run from the Gulch to the debrief room. It was designed as a "working hallway"—wide so maps can be hung on one wall, rather than in the debrief room, while still allowing traffic to pass from room to room. The remainder of the maps will hang in a more user friendly, albeit smaller, map room.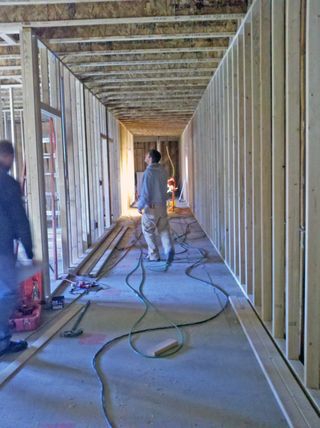 This "working hallway" will ease movement within the building in a number of ways.
By utilizing the hallway in this way, the maps and debrief rooms have acquired more usable space. When walls are covered with maps, the only spot to place a table and chairs is directly in the middle of the room. Without that limitation, the maps and debrief rooms will gain much space students, staff, and faculty can use.
The offices that will line the new hallways will become more spacious and naturally lit as well as being cushioned by much improved insulation.
As productivity continues on the corner of 5th and Lincoln Streets here in Lander, increased efficiency inches ever closer to NOLS RM. The Gulch should be back in its renovated home (it is currently housed at 388 Main Street in Lander) some time in March.
Casey worked as a writer and PR specialist for NOLS.