With Campaign NOLS: Endowing Our Core Values nearing the end of its second calendar year, we approach the halfway point of our $20 million goal. To mark this exciting time and build energy for the second half of the campaign, we will be featuring unique and interesting donors regularly on the NOLS blog.
This week, we begin the profiles with a look into the most original mode of donating I've ever heard of—gambling.
Two time NOLS graduate Erik Christensen and a close group of friends love wagering on sporting events (right now, it's college football). Instead of taking each other out to lunch or forking over cash, the losers have to donate to a charity of the winner's choice. Erik's is NOLS.
Erik's first exposure to NOLS was through the Teton Science School, where he was a student in 1993. Located in Jackson, Wyo., Teton Science School and NOLS often share instructors.
That summer, Erik made his first trip into the Winds as a student on the Wind River Mountaineering course.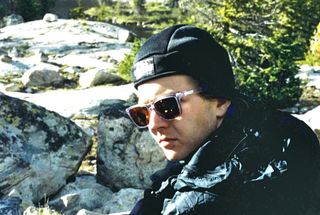 A young Erik on his Wind River Mountaineering course in 1993.
"It was very physically demanding; I was young and hadn't prepared the right way. That course has been my gauge for all other physical fitness: if I could make it through that, I can do anything." Erik recalled. "My course was amazing. I became fascinated with the Winds and have been back to explore a number of times."
Most recently, Erik was sponsored by his employer in California to head back to NOLS for a 23 and over Wind River Wilderness course; he pitched NOLS as leadership training. Since returning from the field, he's been sharing relevant parts of the NOLS curriculum in an organized setting at work.
"We're improving our communication skills, trying to give more appropriate feedback and learning about the different ways of making decisions. The group back at the workplace has been very receptive and, I think, impressed with what NOLS teaches," Erik said.
For Erik, leadership is the most important thing students can learn on NOLS courses. It's front and center in his life, and he tries to use those skills on a daily basis. "Leadership skills make people better. If you're thinking about the way they are presented in the backcountry then you can apply them to your life," he explained, "They just happen to be taught in a wilderness setting, but it transfers to the front country."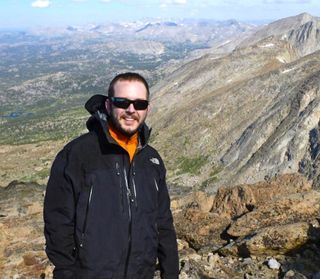 Erik on the summit of Mt. Geikie, in the Wind River Range.
Erik hopes to return to NOLS a third time to keep his leadership skills fresh, but in the meantime he'll continue making wagers with friends and supporting the annual fund. "I have a connection to NOLS and giving money helps me stay involved. I want to thank to the group of educators that have given time and energy to teaching all the students. Since I live far away, donating is the simplest way that I know how to do that."
Lucky for NOLS, Erik wins those bets once in a while.