When NOLS Mexico's new intern, Dalila Osuna Toba began working here in May she realized almost immediately the potential that the compost had for gardening and the possibility of extending the sustainability practices of the NOLS Mexico branch that much further. As one might note by being here, it's not the easiest to grow produce here because of the limited supply of water that is transported from the nearby community of Mulege once or twice a week, but that hasn't stopped Dalila.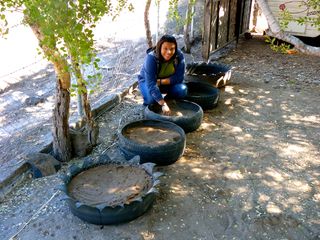 She is currently in the process of pursuing her dream of a garden here with the help of Rations Manager Rebecca and base assistant Harry. The compost in previous years has been separated into different bins, one of which has supplied ample food for a pig that is usually purchased each year by NOLS. But the bins fill up quickly as head chef Rosario Avila typically cooks lunch and occasionally dinner for a group of anywhere between 20- 40 people, especially when groups of NOLS students are here either preparing for a course or just returning from one. And even with a NOLS pig, there is still a lot of compost to be used!
If you are paying close attention, throughout Baja California, one can see that worn down tires are quite often used for planting which is great as the planet goes through an abundance of them and produces a massive amount of tires each day! With the help of Harry, Dalila was able to cut out rings to extend the surface area for planting as well as make decorative patterns resembling flowers by turning the tires inside out. Definitely not an easy feat!
Fortunately, the partner of one of Dalila's cousins, who works out at a nearby farm, had plenty of seeds to donate towards the project. So Dalila has been busy planting all sorts of spinach, beats, carrots and onions, in the hope that this pilot project will grow into something more substantive and that energy can be diverted from shopping for fresh fruits and veggies in town towards gardening here at the NOLS Mexico branch.
Hopefully one day, the garden could also supply enough food to send out on re-rations for NOLS courses. Already in the past decade the NOLS Mexico branch has managed to go from buying food from the United States to providing a more Mexican diet to students embarking on courses, making cooking that much more fruitful and dynamic and lessening the environmental impact considerably.
This is definitely not the beginning of NOLS Mexico's sustainability initiatives. Here at the base, there is also compostable toilets with re-used sails which act as doors for the banos (bathroom stalls). And after taking a shower, one must then pump the water back up into a tank, which then disperses water for irrigation throughout the vicinity. Definitely a good way to build up muscles and get ready for sea-kayaking!
NOLS Mexico furthermore makes good use of the sun with all the solar panels daily keeping the batteries charged which helps make everything run smoothly here at the base. For sure having the branch off-the-grid has helped the branch come up with alternative solutions towards sustainability. But as we can see with Dalila's garden project, so has individual initiative and creativity!