Over a period of two weeks in late October and early November, Gulch staff steadily packed up foods and sent them out the door. This time, though, their efforts were not for courses, but the result of renovations at the Rocky Mountain (RM) Branch in Lander, Wyo.
As the RM building undergoes some demolition and subsequent construction, which will hopefully be complete mid-March of 2012, the Gulch store has moved up the street. For approximately six months, it will reside at 388 Main Street in Lander.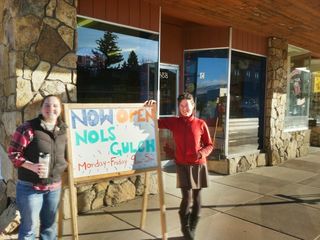 Aila Brennan and Claudia Pearson celebrate their new digs. Brad Christensen photo
"The community support for having a venue on Main Street has been phenomenal," said Claudia Pearson, rations manager at the RM. The Gulch has always been open to the public, though its location off Main sometimes renders it forgotten in local shoppers' minds.
Aila Brennan, the RM logistics assistant, said Lander community members have expressed excitement over the new, convenient location and disappointment upon learning the Gulch will be returning to its Fifth Street location in a matter of months. However, she pointed out the renovated branch will include a door directly from Fifth Street into the Gulch, eliminating the sometimes "intimidating" walk through the oft-crowded branch to the store. She also hinted there will be sunlight shining in on the renovated Gulch.
Claudia said she hopes the location will remind non-NOLS customers of the Gulch's existence. The Gulch has seen an increase in non-NOLS customers since it opened the Main Street location Nov. 7.
"Our goal is to generate a relationship with people, and then hopefully they'll follow us back to Fifth," she said.
In the meantime, the Gulch is open Monday through Friday from 9 a.m. to 5 p.m., offering all the usual provisions in a brightly lit, colorfully decorated space on Main, just in time for holiday sales.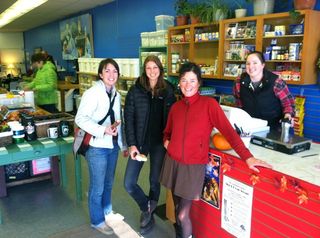 At an open house Tuesday, NOLS employees checked out the temporary site on the corner of Main and Fourth Street. Brad Christensen photo
Casey worked as a writer and PR specialist for NOLS.