It's now been nearly a week since 'La Dia de los Muertos' here in Baja California, Mexico and I'm still finding it difficult to write about one of the most incredible experiences I would say (from my limited time here), Mexico has to offer.
'La Día de los Muertos' or 'The Day of the Dead' celebration seems to vary in length but in Mulege, which is the closest town to the NOLS Mexico base and where most of the Mexican in-town staff live, it took place on November 2nd. Several of the NOLS staff invited us to partake in the festivities of the evening which commenced with visiting Mulege's elaborate graveyard.
Bumping up and down in Cayo's pickup truck, passing the euphonic sounds of ricocheting basketballs and lively youthfulness at a nearby outdoor court, we arrive at the cemetario, or cemetery of Mulege as dusk is descending and candles are beginning to be lit.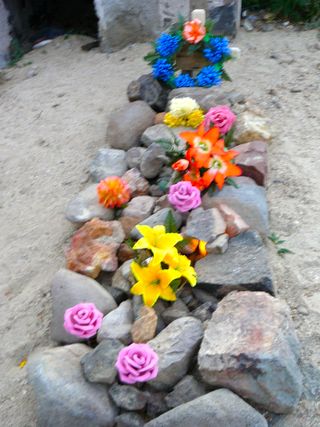 Only it is not like any other cemetery I have ever seen, for it is cradled by colinas, which are low-lying hills that seem to protect and bestow shade upon those that are already 'sleeping' or awaiting their partners to join them for the next journey or segment, following their death.
It is not a somber or tragic feeling in this graveyard but rather one shrouded with mystery and awe. A profusion of flowers toppling over tombs and yet many bouquets still to come, as we see locals entering from all corners of the cemetery.
As we meander our way through (straight lines almost non-existent), we see plates of favourite foods and bebidas (drinks) placed in front of many tombs, numerous family or friends actually haven brought chairs themselves to sit and visit with passed loved ones.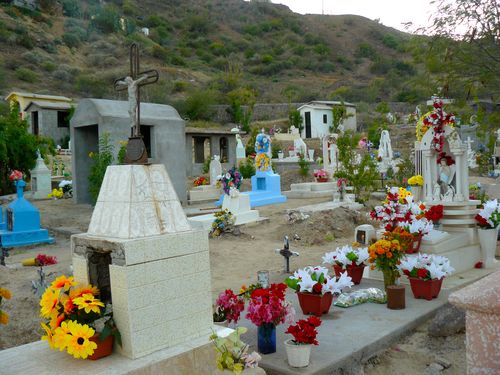 After moving on from the cemetery, we wander our way down to the plaza of Mulege, where apparently a new teacher at the local school, believing heavily in celebrating Mexican culture to foster a sense of Mexican identity, has organized a stage where several dances by the local school children are about to take place.
The smells and flavours of local food stands such as palomitas with chilli sauce, tostadas, nachos and chicharones tempt us greatly, despite being absorbed in the show and ornateness of the costumes.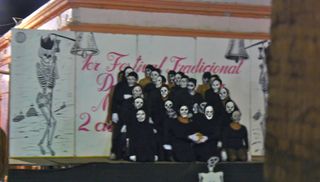 Amidst the grandeur of the show, I find myself hoping that NOLS students out on courses might also be celebrating this special day or learning something about it. Luckily on most NOLS courses in Mexico, there is usually at least one Mexican instructor, so the chances are sure high!