Last weekend, the interns of NOLS Rocky Mountain organized a community event focused on teaching map reading and navigation skills. The event was co-sponsored by The Good Place and Trout Unlimited Wyoming. Saturday was a beautiful day to learn how to shoot compass bearings, mark waypoints on a GPS, and build land features out of playdoh. After learning these foundational skills of backcountry navigation, the participants took part in a scavenger hunt around Lander's City Park. The scavenger hunt required them to utilize all of their new skills to find directions hidden around the park. The day's 7 participants were divided into two teams that collaborated when they were unsure of their skills, so everyone could learn by doing.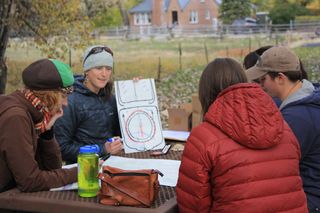 Special Projects Manager Ann Schorling teaching compass skills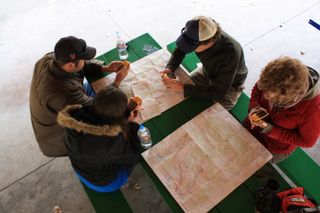 Rocky Mountain Intern Jake reviewing and practicing GPS skills with Lander residents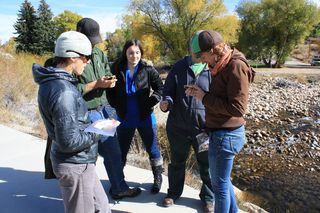 Participants entering a new GPS point while completing the City Park scavenger hunt
We thought the day was a great success. Said event participant Ally Vitale, "the combination of knowledge, experience, and fun made for a really great Saturday." We enjoyed putting on this event for the Lander community, and with some new skills under their belts we hope our participants are excited to get outside and travel safely!