The spotlight was on NOLS at the U.S. Ambassador to Germany's residence last week.
Ambassador Phillip Murphy places a great deal of value on Germany's youth having an appreciation for international relationships. He and his wife, Tammy Snyder Murphy, make great efforts to highlight educational exchanges for students. So they invited two members of the NOLS community to discuss international relationships and educational exchanges during a reception last week: "Bridging the Secondary and University Experiences: Gap Year and Summer Opportunities at Phillips Academy Andover and The National Outdoor Leadership School."
Both Bruce Palmer, director of admission and marketing, and Jane Fried, NOLS Board of Trustees secretary and Phillips Academy assistant head for enrollment, research, and planning and dean of admissions, represented NOLS. The two primarily spoke about the gap year experience and the trend among U.S. Universities to view the experience positively.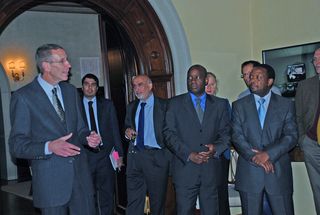 Bruce addresses embassy officials during the reception.
NOLS and Phillips both offer appealing and exciting options for recent graduates of high school. NOLS's gap year programs and Phillips Academy's post-graduate academic year are not only eye-opening ways to spend a gap year, they also provide opportunities to international students who intend to attend U.S. universities. Bruce noted the programs offered by NOLS and Phillips Academy can enhance students' study-abroad experiences.
"NOLS is a good opportunity to utilize English not in a straight academic sense," Bruce noted. A Phillips post-graduate year also affords secondary school graduates immersive experiences with American students.
Representatives of 29 embassies and 15 German schools and universities attended last week's reception.
"Gathering ambassadors, embassy representatives, as well as educators from public and private schools across Germany to learn about summer and gap-year opportunities at NOLS and Phillips Academy is a wonderful way to introduce a global audience to the range of educational experiences available," Jane wrote upon her return home. "I was particularly excited to see a world-wide representation of embassies."
The next day, Bruce spent some time at two of Berlin's secondary schools, John F. Kennedy School and Berlin Brandenburg International School, to discuss NOLS further and explain why some students might find NOLS to be a perfect fit.
"Of course, Bruce and I learned a lot about educational opportunities and challenges in Germany and the participating Ambassadors' countries, as well," Jane wrote.
She summed it up with the observation, "Great education is hard to find and has never been in higher demand."
Casey worked as a writer and PR specialist for NOLS.