Lander, Wyo — Luis Camargo, founder of the nonprofit OpEPA (Organización para la Educatión y Protección Ambietal) accepted the National Outdoor Leadership School's (NOLS) Alumni Achievement Award last Saturday evening.
OpEPA was borne of Camargo's dedication and passion for protecting his nation's natural resources. It is an educational organization through which he shares that passion with the youth of Colombia, South America.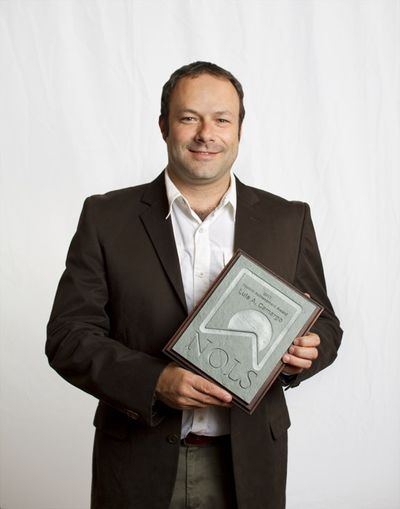 "We seek to promote environmental leadership and action within children and youth so that they can become agents of change in their communities and be able to make responsible decisions regarding the environment," the OpEPA website states.
Just as he hopes to see his students make a difference, Camargo's efforts are greatly appreciated by NOLS. The Alumni Achievement Award is given to an alumnus who has taken what they've learned at NOLS and become notably successful in the outdoor recreation, education or conservation industry.
His work in "targeting underserved, economically disadvantaged youth with powerful and motivating conservation messages" made him an obvious selection for the award.
Camargo's path started after a 1988 NOLS instructor course. He worked as a NOLS instructor and bilingual wilderness medicine course instructor for years, as well as translating Wilderness Medicine Institute (WMI) materials into Spanish.
As he accepted the award during Saturday's reception, Camargo credited his experience with NOLS and WMI with helping him find and succeed in his life's work. Through WMI, he discovered a new calling in wilderness medicine. He said his courses and employment provided the resources and community to turn his passion for the environment and sharing his love for the wilderness into the successful organization OpEPA.
In the 10 years since he founded the nonprofit, over 50,000 students have participated in the outdoor education programming. Sixty-five youth action groups have been established across rural Columbia to empower children between the ages of 8 and 14 to change their communities for the protection of the environment. The educational principles and training of faculty continue to have strong ties to both NOLS and WMI, as well.
"Luis Camargo provides an example for us all," wrote Alumni Relations Director Rich Brame. "He's taken the essence of NOLS' 'can do' and conservation ethos and is sharing it with a growing cadre of future leaders."
Founded in 1965 by legendary mountaineer Paul Petzoldt, NOLS is the leader in wilderness education, providing awe-inspiring, transformative experiences to more than 15,000 students each year. These students, ages 14 to 70, learn in the wildest and most remote classrooms worldwide—from the Amazon rain forest, to rugged peaks in the Himalaya, to Alaskan glaciers and Arctic tundra. Graduates are active leaders with lifelong environmental ethics and outdoor skills. NOLS also offers customized courses through NOLS Professional Training, and the Wilderness Medicine Institute of NOLS is the leading teacher of wilderness medicine worldwide. For more information, call (800) 710-NOLS (6657) or visit www.nols.edu.