At NOLS Mexico, you will not only learn how to hike, sail or sea-kayak, but you will most likely come across a sensational cultural experience with local people such as rancheros (ranchers), cocineras (cooks) or pescadors (fishermen).
This morning we returned from a small fishing village called San Nicolas, located at the end of a rugged dirt road which meanders through the hilltops of Baja California Sur for about 1.5 hrs after leaving Highway 1. After bumping our way down to the Sea of Cortez, the smell and curiosity of both donkeys and cows welcomes us.
We are there to pick-up the sea-kayak seminar which is designed to enable already qualified NOLS instructors in other 'fields' to diversify their knowledge and skill set by learning to instruct sea-kayaking. After not finding the group (which typically spends its last night south of the village), we made our way to the homestead of local pescador, Chico. At Chico's, we hoped there might be a chance of reuniting with the group, since instructors often bring their groups to meet or have a meal there sometime during their course.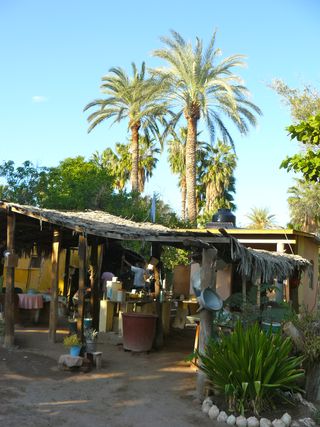 As I stumble along throughout Chico's yard, I am awestruck by his lifetime of collected treasures and creative projects (including a dam he built, along with an extensive network of trenches to irrigate his garden). Unintentionally, I keep stepping on previously fallen Iemons from his lemon tree. The tangy scent sprouting up, making his home smell heavenly.
Chico's real name is Francisco and he has been living with his wife Francisca in this beautiful, quaint area for over twenty years. Along with his father, he planted the first palm trees which now cover a large extent of the village and many of which he has used machetes and hatchets to carve out chairs and other pieces of unique furniture with.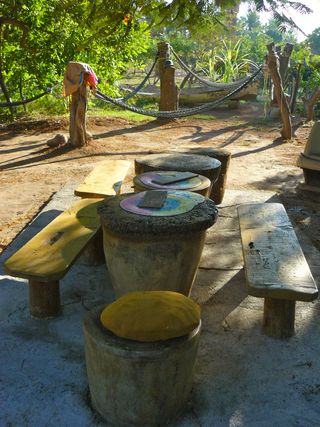 Looking around inquisitively, NOLS Mexico Rations Manager, Rebecca Spiro, asks Chico about the snake skin she sees wrapped around a pole in his house. He tells us a story about when his daughter was quite young and very sick. The family, he says had tried everything to cure her and nothing seemed to do the trick until one day a soldier arrived in the village and told him about the medicinal properties of a certain part of a viper snake, which he tried and essentially cured his daughter.
At that moment we look up to see some of the NOLS seminar students entering Chico's yard. Like us, they seem bedazzled by Chico's oasis of serenity which surprises us all considering the story he tells us about the hurricane that came through three years ago.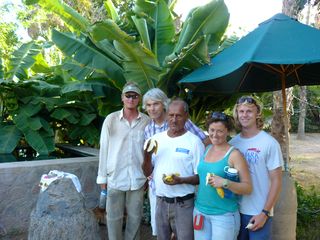 Nearing the end of our visit, Chico hands us the freshest and most delicious banana I have ever had from his banana tree, Afterwards he collects the peels, knowing his cow will appreciate them immensely.