Last Friday brought not just the weekend, but also a moment to look back on the last year for NOLS.
Dozens of board members and advisory council members converged on Headquarters in Lander, Wyo. for the annual board, committee and school-wide meetings and several receptions.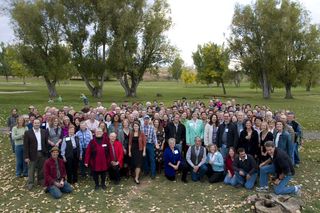 Board Chair Tori Murden McClure kicked Friday morning off with a graceful state of the school address that drew both guffaws of laughter and tears down faces from her audience as she referenced NOLS clichés and acknowledged the heartbreak of the bear attack in Alaska and the loss of NOLS India student Thomas Plotkin.
McClure was not the only speaker of the morning to bring up the challenges that have faced NOLS in recent months; like the rest, she maintained a love for and confidence in the NOLS mission and community.
The state of the school presentations also revealed a number of successes and accomplishments over the past year, ranging from the installation of the solar panels on the Noble Hotel and the return to Africa to a record number of students; from a course catalog redesign to generous donations and the groundbreaking of a new Wilderness Medicine Institute campus.
Drew Leemon, NOLS director of risk management, summed up his pride in working for the organization to conclude his speech.
"The people in the field do a great job. And most of the time, as the numbers show, we get it right and it works, and we have profound respect of our students. And once in a while something bad really happens and we respond in a real professional manner and effective manner and compassionate manner."
Such professionalism was evident throughout the board conversations that followed, efficiency in the committee meetings and compassion evidenced by the emotion written on the faces of everyone involved throughout the weekend.
Although not an entirely celebratory weekend, the events were capped off with a reception Saturday night in which awards were presented to alumni, staff and supporters and board members and staff all danced the night away.
Casey worked as a writer and PR specialist for NOLS.