Saturday night, a few truly outstanding members of the NOLS team were recognized for their work. Each recipient of the 2011 staff awards was given a standing ovation by the crowd in attendance at the reception and a plaque.
Jamie Musnicki—Combo
Our first award recipient is an instructor and program supervisor. She took her Instructor Course in 2002, and since then she has accumulated just over 200 weeks in the field.
Jamie has taught four instructor courses and countless instructor seminars. She is a "go-to" instructor for the staffing office, as she is a backpacking, mountaineering, winter, and climbing course leader. She is known for her excellent work ethic, superb attention to detail, and commitment to training staff.
NOLS Pro has noted her "high-quality work, extensive expertise, and 'can-do' attitude." These qualities were exemplified on the India Air Force Mountaineering Course on Denali. Jamie worked tirelessly to provide a safe and successful expedition that greatly improved NOLS' relationship with the India Air Force. Once again, she proved invaluable when she agreed to fly to India at a moment's notice to help support the instructors and students who were involved in the recent and tragic fatality.
Jamie has also worked as a mountaineering program supervisor in Alaska and is presently a winter program supervisor at the Teton Valley. As a program supervisor, she shines under pressure, has great vision and action, works exceptionally well as a member of a team, and is an advocate for staff.
Andrew Knutsen—In town
Andrew started his NOLS career in 2006. He cheerfully helps employees no matter how busy he is or how hard the question might be. He has a high level of expertise and can fix most problems or answer most questions on the spot. If he can't, then he'll do some research and keep digging until he finds the answer. While he primarily works with in-town staff as information systems desktop administrator, he willingly helps any NOLS employee work-related or not.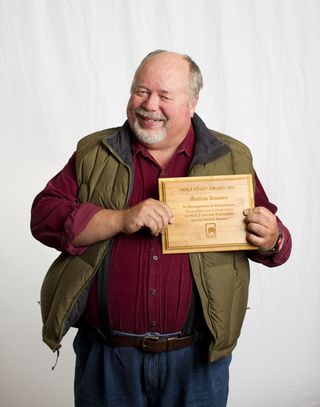 One question on our annual evaluations is, "what have you done to improve yourself and your position?" Andrew's response exemplifies a great work life balance. He got certified as an OS X Apple Technical Coordinator and expanded his house sitting from cats and dogs to include horses.
Andrew is a great ambassador for NOLS. He is an avid hiker and proud member of the long-distance hiking community. He often shuttles folks who are on the Continental Divide Trail between road heads and town, which puts NOLS and Lander in a good light and also supports the use and preservation of our classroom.
He is an actor and has participated in a number of theatrical productions in Fremont County such as Man of La Mancha and Guys and Dolls. In November, he will play the role of Robert Starveling in A Midsummer's Night Dream.
Jesse Quillian—Instructor
Jesse started her career in 2000 as a student on a Himalaya Backpacking course. She has been a staple at the Rocky Mountain Branch since her Instructor Course in 2005. Thirty-five of her 41 courses have been based out of Rocky Mountain.
From the beginning of her career, she has continually worked to improve and expand her skills. In 2007, she took the initiative to expand her winter skills by taking a NOLS snowboarding course in the Teton Valley.
She brought her extensive horse background to NOLS and quickly became an integral part of Three Peaks Ranch. She played an important role in finalizing the Horse-packing Instructor Notebook.
In 2008, she became a program supervisor at Rocky Mountain and split her time between Lander and the Ranch.
In October of last year, she left her job in-town to focus on full-time course work. She joined the annual faculty program, and, in the past year she worked an unbelievable 35 weeks in the field. Students of her last course noted her passion for teaching, knowledge of the NOLS curriculum, great sense of humor, and her extreme fitness—perhaps the result of 35 weeks in the field in one year.
Not surprisingly, she was not present to accept her award because she was in the field proctoring an Outdoor Educator Semester.
Deborah Nunnink—In town
Deborah is known for working and living the values we all hold dear at NOLS. She has been a key member of the NOLS community and the Lander community since 2002. She has exemplary expedition behavior and always does more than her part. She is committed to education, wilderness, and leadership.
As operations director, Deborah has transformed many ways that we do business, and her commitment to efficiency has made it possible for NOLS to prosper in challenging times while other organizations have been challenged. She helps our individual schools better themselves and has helped develop many key employees at NOLS. She strives to build programs and operating areas that are sustainable, effective, profitable, and fun.
When she was interviewed her for her job, a former boss stated she enjoys having contests and playing games with fellow employees. He also made it clear she almost always wins those games (he actually seemed a bit perturbed about this). What he didn't say was that when she is on your team everyone wins and so does our mission.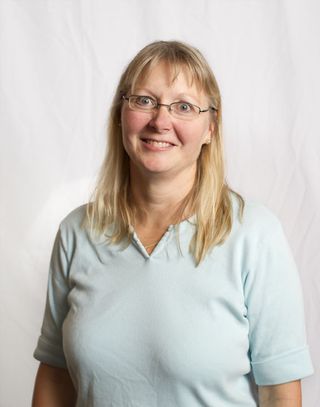 Executive Director John Gans wasn't able to attend the reception and admitted, "One of the hard parts of being away for this annual meeting is that I am not personally able to award this recipient. She has given so much to our organization and has been a real key to our success."
Kurt Hotchkiss—Instructor
Kurt came to the school in 2007 on a river instructor course in Utah. He has been working consistently since then in our programs in Utah, Idaho, India, and Brazil and will work in Patagonia this spring.
Since 2007, he has accumulated over 100 field weeks working river, sea kayaking and hiking courses. In 2011 he spent 28 weeks teaching classes on the water.
He is well known for his laid- back style and his excellent student outcomes. He is a fantastic coach on the river, and students comment that he is fun yet informative, respectful, and has an incredible passion for the outdoors and paddle rafting. His self-awareness, commitment, communication, and creativity are reflected over and over in his performance evaluations and are what make branches so happy to have him back.
A recent evaluation noted he did a great job of not only coaching students, but also his junior staff. He held students to high standards while respecting the knowledge they had gained from their previous semester sections. He sat down with his patrol leader and charted out the next steps in his development to course lead.
He is not able to be here as he is presently canoeing on the Amazon with semester students.
Chris Brauneis—In town
Chris first came to NOLS in 1992 on a Fall Semester in the Rockies. He worked in the Rocky Mountain issue room on and off for several years before taking his instructor course in 1997. Since then, he has worked 146 weeks in the field.
In 2004, he began work in the Rocky Mountain Program office in both the evacuation coordinator and program supervisor roles. He has shown extraordinary patience and professionalism in answering hundreds of parent phone calls.
The staff who nominated Chris for this award said the following:
"I personally am more successful in my job for having him as a friend and co-worker, as are dozens, if not hundreds, of others at NOLS."
"His presence at the branch makes me want to continue to prioritize field courses in Lander, and I can't imagine working in town at the RMB under a different supervisor."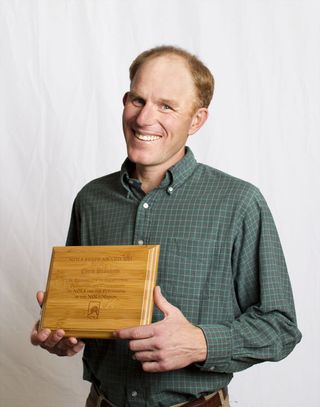 Chris is also known for his random-acts of kindness such as personal emails thanking employees for doing some aspect of their job or offering to help an employee out either personally or professionally.
In 2007, Chris became the Rocky Mountain program director where he currently oversees the supervision of 350 field staff annually. His dedication to the student experience is always forefront in his actions.
Please join us in congratulating each of these remarkable members of our team—this year's employees of the year.
Casey worked as a writer and PR specialist for NOLS.