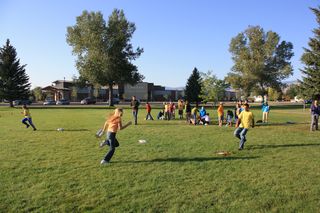 When Gayla Hammer of the Lander 6th grade contacted Ann Schorling, Special Projects Manager, to see if NOLS would offer Leave No Trace training to their students for the second fall in a row, we were excited. Team intern immediately set to work planning fun and exciting activities, which would also communicate the core values of Leave No Trace. In the end, we came up with a morning full of relay running and drama to capture our young audience.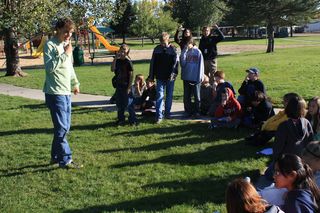 For three days, Ann, Jake, Whitney Johnson (former Rocky Mountain intern who now works in the Gulch) and I went down to the Lander Middle School. Each session began with a "Decomposition Relay" to tire out our audience. In order to complete the relay, teams had to place ten items at distances representing the length of time needed to decay completely—ranging from one month to five hundred years (eg. plastics!).
The relay spawned friendly competition as well as great athletic performances. The decomposition timeframe really hit home, when we explained that had Christopher Columbus used plastic bottles, they would be just disappearing today!
One of our other two activities involved the performance of skits by our sixth grade friends on how not to behave in the woods for each of the seven principles. Highlights included bear maulings, birthday parties gone awry, and many lost hikers—fortunately we recovered all lost hikers and birthday candles, and received many great suggestions for better behavior in the mountains. We were all impressed by Lander's gifted performers!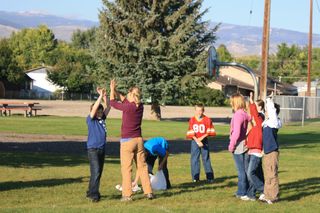 Thanks to all of Lander's sixth graders for coming outside to play with us, and helping pass on the message of Leave No Trace!