For those who must leave the 'field' or rather a section of their NOLS course because of medical issues such as sprained ankles or migraines… all is not lost and according to two NOLS students, there is still much to be learned at the NOLS Mexico Base!
Currently, students Cliff Mosser and Leah Geller are recovering here at the NOLS base waiting for their crew to finish off the hiking section of their semester course in Baja. The course entails spending the first month learning hiking and Leave No Trace camping skills, the second month learning sailing and navigational skills and the third month learning sea-kayaking skills and refining the leadership skills they learned throughout.
Cliff has thoroughly been enjoying his time at the branch and mentioned, "I know it sounds cliche, but everything happens for a reason and with already having completed a NOLS course in Alaska, it has been awesome getting to spend time here and see the inner workings of the NOLS Mexico branch as well as getting to meet the people who make it happen".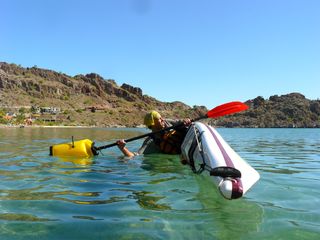 Upon entering the rations room, I see Leah busily weighing and packing spaghetti noodles for upcoming rations. Speaking over the music, she says she's been learning a lot about how to do rations for courses, how the equipment issue room works and how the instructors meet several days prior to a course to put together the maps and routes and go over what they will be teaching individually and as a group. Most of all, Leah emphasizes how nice it's been to see how close everyone is at the Mexican NOLS branch and how much they help one another.
Beside us is Cliff, who adds that when he came here, he felt immediately right at home and that, "it definitely links into me wanting to pursue a career with NOLS in the future, either working at the branch or as instructor". Although he realizes how passionate about either sailing, sea-kayaking, hiking, etc, one must be to actually be an instructor for NOLS.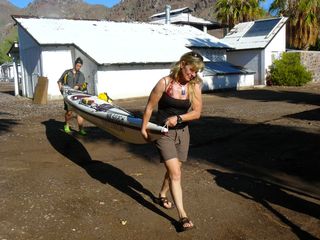 Another day has arisen, following yet another stunning Baja sunrise. For the second time, the students will be going out with sea-kayaking instructor Kate Moylan and sailing instructor Claire Marion for private lessons in Coyote Bay, to help prepare them for the next leg of their adventure!