As the days grow shorter and colder a group of students buckles down to finish up their Wilderness First Responder course in Torpshammar, Sweden. The course is being taught at Gymnasiet AWPE. Gymnasiet AWPE translates as Senior High School Advanced Wilderness Preparedness Education and the school is similar to a US charter school. The school has 3 classes that are equivalent to the 10th, 11th, and 12th grades in a US high school.
Along with studying a typical high school curriculum students at AWPE, who come from all over Sweden, learn search and rescue skills, rescue diving, wildland firefighting, and first aid skills. The WFR, taught by Lena Conlan and Marco Johnson, sees students learning such skills as the patient assessment system, splinting, wound management, focused spine assessment, and leadership and communication.
This is the third year that WMI has worked with Gymnasiet AWPE to provide WFR training for their students.
Last night the students were out under a bright moon in freezing temperatures and working in small groups to help members of their groups who were injured. Hmmm . . . sounds like a typical WMI WFR no matter where in world one is located.
Today the AWPE students are finishing up their WFR curriculum with the written and practical test coming tomorrow. Soon this group of students will be fresh WFR's with stories to tell to the next class of AWPE students who start their WFR next week.
--
AWPE students Olivia Soles and Marcus Bergström deal with a "C" step issue and the need to stop significant bleeding in a patient with the use of direct pressure, elevation, and a pressure bandage.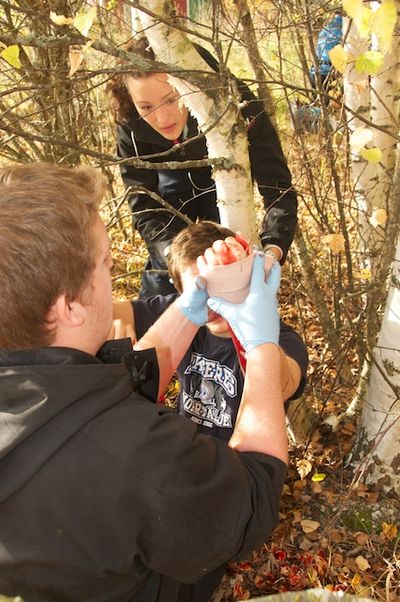 AWPE students help a patient who was found injured in the water.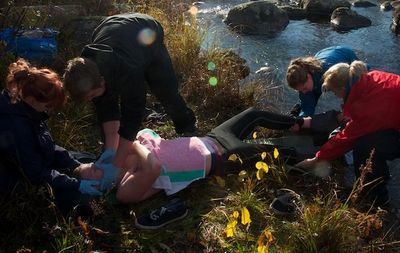 Camilla Nolén checks the circulation, sensation, and motion (CSM) in a patient who has sufferd an open fracture of their tibia/fibula.