NOLS returned to the Northeast this summer, and it appears it's only going to grow stronger next year.
NOLS has history in the region, but it had long been on hiatus until this summer. The NOLS East operation was based in Connecticut starting in 1970, but it only lasted for about three years.
Instructor Lindsay Yost supervised the program during the first summer NOLS has been in the Northeast in decades – this time in New York State, and she'll be part of its continuation and possible expansion in the summer of 2012.
After what Yost and Special Projects Manager Ann Schorling called a successful return to the East Coast, Yost is now trying to contain her excitement over the possibilities facing the satellite location. She has high expectations for the re-invigorated operations, which are run by NOLS Rocky Mountain. Not only will one two-week course be added to next summer's schedule in Adirondack Park, but she also sees room for expansion to river courses and both NOLS Pro and Lightweight operations there.
One great success of last summer is that two thirds of students who attended courses were from New York or neighboring states and were able to access the operation—based at Paul Smith's College—either by car or short flight.
"NOLS' intention was to not pull students from the West Coast that would have attended NOLS Teton Valley adventure courses," Yost said.
Similarly, NOLS hopes to draw upon and develop a local population of NOLS instructors, who might not otherwise be able to work for the school due to travel costs or time restrictions. This past summer, three of five instructors hailed from the region—a ratio Yost and Schorling hope to increase in the future.
"We have a phenomenal population of current and former instructors living in the region whose lives have removed them from the west but to whom NOLS remains important, and who would love to stay connected to the school," Schorling said. "Many work for college outdoor programs and are excited to devote time in the summer to a NOLS course."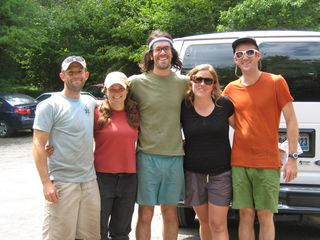 The NOLS Northeast crew was comprised of (from left) Chad Ward, Whitney Battin, Kyle Drake, Lindsay Yost and Christian Gauderer. Not shown: Phil Branca and Ann Schorling
Student demand for courses in the Northeast was high last year. There was such a waitlist for the two courses originally planned for the season a third course was added to the schedule. And next year, Yost and Schorling intend to provide four two-week courses, adding one course to double date both sections.
As one would expect, courses run slightly differently than a Wind River Wilderness or an Alaska Wilderness course. Because the flora is so dense, the majority of ground students cover is via trail, though instructors report that travel in New York is often more challenging than off-trail in the Winds. Students also spent more time in forested areas, though they all summited at least one of the Adirondack Forty-Sixers (the 46 major peaks of the Adirondacks), and one course summited four this summer. The heat, too, set the location apart, particularly with this summer's heat wave. Finally, NOLS Northeast is also the only location that uses bear canisters instead of bear fences or other methods. Finally, and potentially most significantly, NOLS Northeast is one of, if not the only, operating location run exclusively on state-managed wilderness.
"The bugs are comparable, for sure, so that's something that doesn't change," Yost laughed.
In response to the pushback Yost has heard alleging there is too little wilderness on the East Coast, she asserts there is certainly enough space for two-week hiking courses.
"There's 6 million acres [in Adirondack Park]. There's wilderness," she said.
As excited as staff, local students and instructors are to be in the Northeast, those who are already working in the wilderness of the Adirondacks are also pleased and welcoming.
"It seemed like a neat test of our reputation," Yost said. "In a place where we weren't established to know our name was doing well."
NOLS will be back next summer to further polish that reputation.
Casey worked as a writer and PR specialist for NOLS.