NOLS Instructors gathered at Red Rocks, Nevada in late February for a reincarnation of the Rock Climbing Rendezvous. This "gathering of the guides" sought to bring Instructors together for a week of climbing, knowledge sharing and good company. Participants took advantage of the longer route potential at Red Rocks and challenged themselves on big multi-pitch objectives.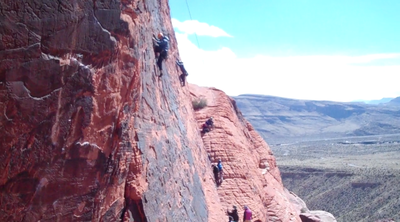 Many were consistent members of the "dawn patrol", seeking the airy multi-pitch climbs of Oak and Pine Creek Canyons. Proud ascents included Black Orpheus, Eagle Dance, Levitation 29, Solar Slab, Rainbow Buttress, Black Dagger, and many others on the warm, south-facing sandstone walls.
Weather conditions were pleasant for early spring in the Mojave Desert. We experienced sunny, dry weather and cool, persistent winds during the week. Conveniently, the snow chose to fall just before and after the event.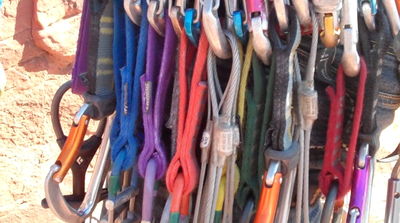 The Rendezvous brought together Instructors with a wide-spectrum of experience-levels in both rock climbing and employment at the school. We enjoyed catching up with old friends and meeting new. The Rendezvous was successful in creating a community-oriented forum in which personal connections could be made. These connections are important, and are often difficult to make within our unique, nomadic community of NOLS field instructors.
Extracurricular highlights of the Rendezvous included a fireside chat with the Red Rocks Climbing Ranger, Nick Walendziak, and a half-day of rescue clinics. Nick took an hour out of his Tuesday night to join us for a Q & A session. He fielded many questions regarding the bolting moratorium in the Red Rock Canyon Wilderness Area. He shed light on the relationship the BLM has with the local climbing community pertaining to the enforcement of this bolting policy.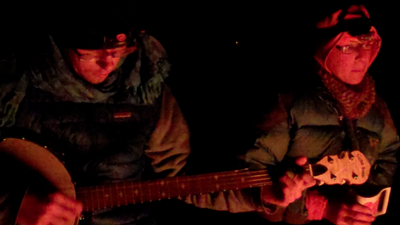 Nick also shared a bit about his own climbing background in the southeast and gave us NOLS instructors a view into the perspective of BLM employees. This was an interesting and valuable fireside conversation in which connections were made between the Red Rocks climbing community and our own.
The half-day rescue practice was hosted by Rainbow Weinstock, Anna Haegel, and Daren Opeka. Each instructor ran an independent station focusing on a different aspect of high-angle rescue and student management.
Beyond scheduled events and ambitious climbing endeavors, participants gathered casually during meal times and around nightly fires. Stories of the day's experiences were retold in animated fashion, and plans for future climbs were hatched. Laughter filled the air around group campsite B as truth and lies were woven into stories of proud ascents of the past and present.
The 2011 NOLS Instructor Rock Climbing Rendezvous was a huge success. The goals of gathering community together and professional development were achieved. Thanks to NOLS Rocky Mountain for their logistical support of the Rendezvous. Special thanks to the NOLS Instructor Association for financially co-sponsoring the event and paying for the group campsite. Thanks to Anna Haegel and Daren Opeka for their energy in the organization of the event.
Only one question remains, where to host the Rock Climbing Rendezvous next year?