Leadership week saw NOLS working with a program called Lights On in Lander, an afterschool program to promote academic excellence and positive youth development. On Tuesday, we talked about backcountry nutrition and on Thursday we taught the group how to best get ready for a day excursion into the Wind Rivers! But don't fret, it wasn't all talk- we played some games in the gym and then munched on some yummy trail mix from the rations room at NOLS Rocky Mountain. They were Happy Campers to say the least!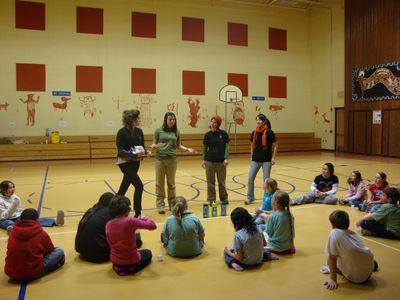 Today we wrap up our time spent volunteering at the Senior Citizen's Center. This past week, staff drove around Lander to cheerfully greet seniors and deliver their lunchtime meals. An all around success - thank you Lander Senior Center for welcoming us as volunteers!
The competition is heating up as the departments at NOLS continue to donate food for the final weigh-in this afternoon! Things are coming down to the wire as staff run off to the grocery store to grab those last minute cans. We'll see who can take the lead when the final weigh-in occurs at the Leadership Week Celebration this afternoon. Stay tuned for news of our total poundage and exciting celebration- cheers to Leadership!