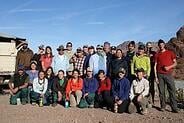 On a bluebird mid-January day in western Arizona a group of NOLS students descended a rocky desert canyon to re-emerge from the wilds at a ghostly visage of America's past. They were not the only ones to happen upon the Rob Roy mine in the remote Kofa Mountains. Meeting them there were a team of biologists from the U.S. Fish and Wildlife Service and a carful of Southwest Branch staff. The goal of this Sonoran rendezvous was to aid in the restoration and preservation of a historic desert landmark.
In 1896 gold was discovered in the mountains bordering the King Valley and soon thereafter the "King of Arizona" Mine was born. Crates bearing equipment bound for the mine were labeled "K of A". The folks working the mine began using the contraction "Kofa" and in 1939 the moniker became official when the government designated the area the Kofa National Wildlife Refuge following a statewide effort by the Boy Scouts to protect the local big horn sheep population.
Mining in the Kofa is now nothing more than a memory of past riches, though its legacy persists in the dilapidated and sun hardened structures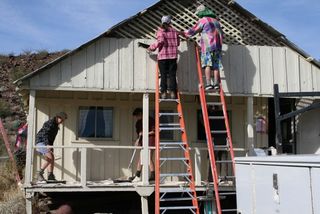 that adorn the craggy red hillsides. Over the last several years Susanna Henry, the Refuge Manager from the U.S. Fish & Wildlife Service, has spearheaded a project to create a historical landmark at the site of the Rob Roy mine in order to preserve an integral piece of Arizona history.
On the morning of January 14, 2011 the students and instructors of the Southwest Outdoor Educator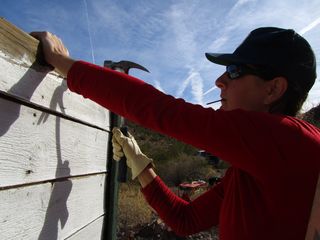 course along with the biologists and branch staff divided into three work groups and dedicated the day to revitalizing the mine site. One group set forth up the hill to remove trash and debris from around the entrance to the mine while another worked steadily refurbishing the Tilotson house, a small building that the Fish & Wildlife Service plans on turning into a museum type structure where visitors can take a glimpse into what the life of a miner may have been like. The third group was shuttled a short way down the wash to a building that once served as the area's post office. There the students donned colorful painting shirts and went to work cleaning up the site and painting the old building. Judging by the soiled clothes, sweaty brows, and the smiles on everyone's faces, the day was a huge success. And, the Rob Roy mine site is now one step closer to being a window, for all visitors to see, into the boom and bust that is Arizona's mining history.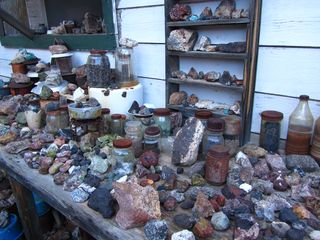 For more information on mining history, wildlife, and current events in the Kofa NWR visit http://www.fws.gov/southwest/refuges/arizona/kofa/index.html or contact the Refuge at debbie_pike@fws.gov