On November 22nd, the students of Fall Semester in the Southwest (FSW 9/13/10) spent a few hours with Eric and Suzanne Dhruv, the directors of the Ironwood Tree Experience (ITE). ITE is run through Prescott College and is another top-notch non-profit here in Tucson, AZ.
The goals of the day were service and transference. Our hope was to instill the value of volunteering and "giving back" to our students. In conjunction, we were excited to intorduce them to a smaller scale, yet similar program to NOLS, in efforts to inspire and help them see what kinds of other organizations they could get involved in after their NOLS semester ends.
The Ironwood Tree Experience's mission is to connect teens in the community through experiences in nature. One of ITE's ongoing projects is called GreenLots. Greenlots are urban spaces in which ITE teens and the community actively contribute to create natural habitat for youth and for wildlife. Teens in the ITE program are involved in all aspects of the GreenLots project from research, planning suggestions and design to implementation and ongoing maintenance and landscaping.
Since it was a Monday, none of the ITE teens could come out with us (they were all in school!). But Eric and Suzanne took us over to the far west side of town to the ITE Greenlot built around a high ropes course. Our NOLS students learned about what the kids had planned for in construction of the space and hearing about some maintenance projects that needed to happen for its ongoing development and upkeep. Then, we split up into teams and got down and dirty!
One team moved a big pile of rocks and mulch to other areas of the lot. Another team removed a bunch of buffelgrass, which is an invasive plant here in the Sonoran Desert. The last team tackled removing russian thistle (aka. tumbleweed), yet another invasive plant, from a terrace area on the north side of the lot.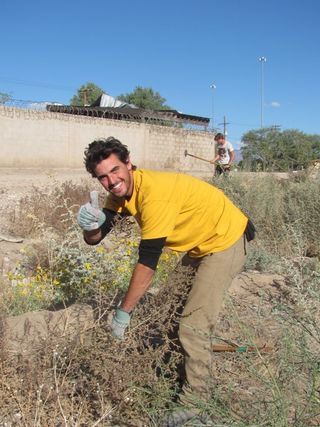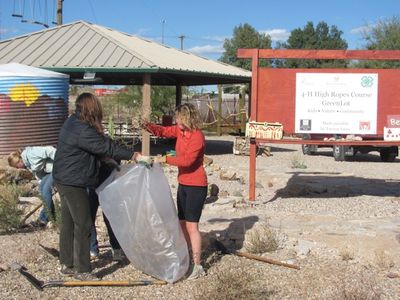 It's amazing what 20 motivated people can do in a few hours! The afternoon was a success and Eric and Suzanne were very thankful for the service from our students. To celebrate the day, the group headed back into the "concrete jungle" for some post-service In 'N Out burger.