Holding a trail restoration day in November in Wyoming doesn't seem like the brightest idea. Last year in Lander, snow had already been around for a month. So Aaron and I crossed our fingers when we scheduled a service project for last Saturday.
And we lucked out! Thirteen old and new friends came to help us out on three projects. We hauled rock and dirt all morning to repair washed out sections of trail. We also built a retaining wall and fixed logs to make some steps more user friendy.
The event was a grand success. Everyone went home full of delicious food donated from the Bread Board, a sub shop, and Mr. D's, a grocer. Hopefully users of the Nature Trail in Sinks Canyon State Park will enjoy the maintenance for seasons to come.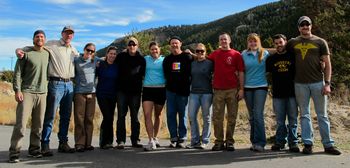 Not pictured: Ashley Wise, Coe Berry, and Kelsey Wicks.
All Photo Credit: Mark "Huck" Huckeba.