We mixed things up a bit this morning at NOLS Rocky Mountain. We felt communication flow would be better if we worked in the same general space. Or, more precisely, the exact same space.
We're also a bit jealous of Headquarter's set-up down the street. Therefore we upped the ante - everyone moved EVERYTHING out of their offices and convened in the front office.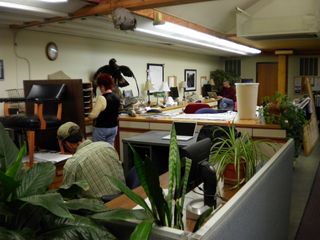 Andy just commmented, "it does seem like we got hit by a hurricane or something". It's true, the decor and organization needs some work, but we have a larger vision in mind here!
People's reactions are the highlight of the experience. John Gookin commented, "it feels more relaxed. I could just sit down anywhere and not worry about messing anything up!" while Andy grinned and said "we're really just testing field instructors ability to deal with obstacles and change" as one walked into a filing cabinet.
I suppose our fun will end and we'll move everything back tomorrow when the newly cleaned carpets have dried. Until then we'll enjoy our new closeness and an excuse to move RM celebrations outside. Happy Birthday Ryan!