Lots of introductions have been happening at NOLS Rocky Mountain. My fellow intern, Aaron, and I have just started.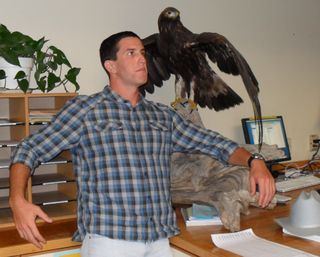 Everyone has been super friendly so far. Usually they respond to us by saying, "Oh wonderful! Welcome to Lander!" accompanied by a large smile. I'm a bit suspicious of that smile - are they secretly thinking of ways to add to our two page intern to-do list?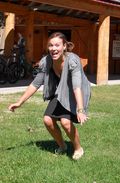 Even the random raptor seems sort of friendly (we'll give you bonus points if you can name the species). Aaron almost captures the look in this bird's eye!
We aren't the only recent arrivals. Three groups of students came in last night. As they learn the ABCs of packing a backpack, we are learning how to upload NOLS photos.
Like the students, we have been explaining where we are from and why we are here. Aaron is from Chicago ("kind-of") and has been on two NOLS courses -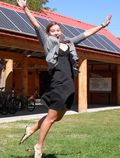 semesters with NOLS Australia and NOLS Southwest. I'm a Wyoming native. No NOLS courses for me (yet) although I share the love for the outdoors and leadership training inherent in everything NOLS does. I also love being spastic in photos.
While the students will head out tomorrow, Aaron and I will be here working on projects from Sustainability to Outreach. And that to-do list? We aren't sure it's long enough. So if you have a suggestion - let us know!