The Outdoor Retailer Show is all about checking out new gear, networking with new people, and strengthening our relationship with NOLS partners. It takes about 30 minutes to walk from one end of the conference floor to the other.
The conference kicked off with speeches from Secretary of the Interior, Ken Salazar, and Natural Leaders Coordinator Juan Martinez. They spoke about getting people connected back with nature, and the America's Great Outdoors initiative. NOLS is involved with the AGO initiative by co-hosting one of the country-wide listening sessions in Lander, Wyoming on August 25th.
Here is some of the latest gear from around the NOLS world in the outdoor industry:
NOLS and
Deuter
have been working hard to ramp up our relationship since the last Outdoor Retailer Show in January 2010. Together we are partnering to provide a series of NOLS logoed
Spectro AC 38
packs. It's a smaller pack meant for cragging and weekend trips. This pack with the NOLS logo will be for sale in an outdoor store near you soon.If you have been in any of our issue-rooms, you'll know that we carry
Optic Nerve
sunglasses in our issue rooms. Based in Denver, Colorado, they have a strong environmental ethic that aligns with our own. At this show Optic Nerve is showcasing their new line of sunglasses called FORESEE. These glasses are made from 100% renewable resources with no petroleum-based resins and no hazardous paints. Check out the new FORESEE glasses on the Optic Nerve site.
Stackpole Books
and NOLS just announced the field edition of the NOLS Cookery. It's the same great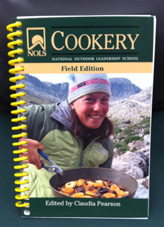 Cookery
you may know already but has been outfitted with a spiral binding and weatherproof pages. Stackpole is also working on a NOLS Expedition Planning book that will be the first
NOLS book printed in full color. We work closely with this Pennsylvania-based publisher on all of our book projects. They also publish titles on military history, fly-fishing, the Appalachian Trail, and more!
Nuun electolyte-enhanced sports drink tabs have been floating around the NOLS headquarters offices for the last few weeks and they are also making the rounds here at the Summer Market. Pop one of these tablets into your water bottle for a super refreshing, sugar-free solution to quenching thirst. Have you tried Nuun before on your adventures? Let us know what you think!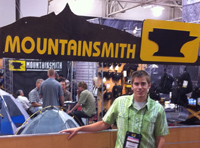 There was also a sighting of NOLS all-star (Baja Sea Kayaking grad, veggie-bus crew member, Rocky Mountain Intern, and Student Services Rep) Jared Pangretic. He is now a member of the Mountainsmith marketing team. He was super busy, but had time to stop by our booth, and have dinner with us. (Don't forget where you got your start Jared!)
For more info on the latest gear from the Summer Outdoor Retailer Show check out the following blogs:
feedthehabit.com
thegearcaster.com
wendmag.com
theadventurelife.org
trailspace.com
snewsnet.com
orinside.com
William has worked in the past as the web content administrator, social media coordinator, and a data logistics assistant for NOLS.