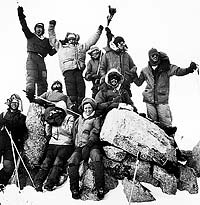 It was during this week in 1965 that a new creature was born: the NOLS expedition. That's right, 45 years ago, Paul Petzoldt led 43 young men into Wyoming's Wind River Mountains on the school's first course. This year we are celebrating NOLS' 45th Birthday and WMI's 20th with a big event in October. Stay tuned for more details on that celebration in the Summer 2010 issue of the Leader.
Meanwhile, in honor of NOLS' actual birthday, which was two days ago, I thought I would ask my colleagues at HQ why they think NOLS has thrived for 45 years (basically, this was a way for me to pass the buck and let my colleagues do all the work for this blog, instead of coming up with 45 reasons myself).
So, here are 45 reasons why NOLS has been successful for 45 years and WMI has been successful for 20 years!
the most qualified, enthusiastic, charismatic, and dare I say ravishing in-town staff members;
we haven't deviated from our core values;
community;
we're true to the mission;
dedicated to excellence;
"Rules are for fools" - Paul Petzoldt
it's awesome;
consistency;
adapting with the times;
it's one of the best place to work;
integrity of the employees;
commitment to the cause;
we place students first;
we give students life-changing transformative experiences;
our goal is to increase diversity in students and staff;
we're involved in our community (check out the last blog for an example!);
translating Leave No Trace to the urban setting;
we all believe in the mission;
what we do is satisfying and rewarding;
the positive impact on our students is clearly visible;
the employees want NOLS to be successful;
dedicated donors;
our Board is on board and invested in what we do;
free coffee for 45 years can keep you going;
we try our best every day;
stunning classrooms;
providing kick-ass experiences that keep students coming back for more;
we connect people to what's important;
the NOLS wind pants;
we have had the support of wolves and grizzlies in Fremont County;
we work hard and play hard;
we stick to what we do best and don't try to be all things to all people;
inspiring educators;
creative/dynamic leadership;
cutting-edge WMI curriculum that is relevant and accurate and keeps up with changing science and technology;
passionate alumni who spread the word about how NOLS has inspired them and influenced their lives;
you can't go wrong connecting people to nature;
worldwide operating areas;
introduces people to wild places, makes them fall in love with the places, and makes them fall in love with NOLS for introducing them to the places;
healthy bodies make healthy and happy minds - and NOLS supports that philosophy;
translates expedition-based leadership into all settings - front country and backcountry;
a great balance of non-profit and business philosophy keeps NOLS true to its mission yet financially profitable through goods times and bad;
Aparna is a NOLS instructor and has been the PR and Marketing Intern, PR specialist, and the Diversity & Inclusion manager at NOLS. She is a founding partner of The Avarna Group (theavarnagroup.com).