Where did you get your start in outdoor education?
I got my start in outdoor education in rural Pennsylvania. As a little kid, my parents would shoo me out the back door with nothing more than a brown paper lunch sack containing a PB&J sandwich, carrot sticks, and a juice box. I'd spend entire days exploring the quiet woods, fishing the clear lakes and streams, and building secret tree forts behind my house.
I didn't realize it then, but I was getting my start in outdoor education as I discovered nature and my place within the natural world. Things haven't really changed for me... I still love packing the necessary supplies and heading out into the mountains to have adventures as well as to discover new things about the natural world and about myself.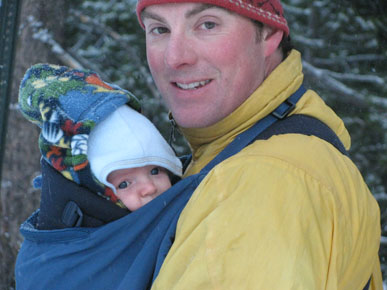 What is your favorite class to teach?
I think it's my duty to teach land management and the transference of Leave No Trace principles to everyday life. Individuals who are drawn to NOLS usually value nature and wild places. So, it is up to us (NOLS instructors and students) to be leaders in advocating the value of undeveloped landscapes - mountains, woods, watersheds, etc.
To demonstrate this lesson, I enjoy reading the letter I wrote to my local newspaper and land advocates after my student course back in 1998. In this letter, I protest the development of the land behind my childhood home and admit my actions of destroying the survey stakes plotted throughout the woods.
Today this land remains untouched, and I hope my story motivates and inspires students to value wilderness and hopefully become involved when necessary... I love inspiring my students to return to their own homes and champion environmental causes near and dear to them. We can make a difference!

Are you an analyst/architect, driver, relationship master, or spontaneous motivator?
I'm a strong analyst/architect and relationship master. I can step into the driver role when called upon. I struggle most when required to be a spontaneous motivator. But I love hanging out with spontaneous motivators... they're usually the life of the party!
What is your favorite course to teach?
Winter courses. I love living and skiing in a winter environment. In my opinion, there's nothing better than carving fresh tracks down a pristine snow slope. Skiing is a way of creating artwork and expressing oneself with the environment... and it's erased like an Etch-A-Sketch when the next storm blankets the landscape with fresh snow.
What is your single greatest accomplishment related to the outdoors?
My single greatest accomplishment related to the outdoors is each student I have the opportunity to lead, teach and get to know. I've made so many great new friends through the myriad of NOLS courses I've worked. I love reading about my former students and all the wonderful things they've gone on to achieve in their lives. My students inspire me to keep teaching and leading others in the wilderness.
Read more Instructor Q&A's here:
Instructor Q&A with Evan Horn
Instructor Q&A with Daren Opeka
Instructor Q&A with Robin Larson

William has worked in the past as the web content administrator, social media coordinator, and a data logistics assistant for NOLS.