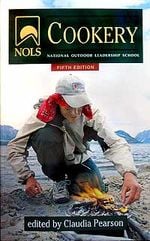 Emily McGalliard, mother of Semester in Baja grad Elena, snagged her daughter's copy of the NOLS Cookery during a recent camping weekend with friends and made a few changes to some classic NOLS field grub.
She took the Rice in Nut Curry Sauce recipe and made it a one-pot meal with a more distinctive Thai taste by using red curry, powdered coconut milk, and instant mashed potatoes as a thickener. The recipe adds up to a tasty and filling dinner with the protein and carbohydrates you need to hike the trail all day. Thanks, Emily!
Emily's Version of NOLS' RICE in Nut Curry Sauce
Ingredients
1 cup rice
1 handful of dried veggies
1 Tbps dried onion
¼ tsp garlic
2½ cups water
2 cups water
2 cups dried milk
1 tsp brown sugar
2 Tbsp soy sauce
1 Tbsp or a little less red curry powder
2 handfuls each of raisins and cashews
2-3 Tbsp instant mashed potatoes
1 tsp vinegar
Directions
Mix the first four ingredients in 2½ cups of water. Bring to a boil and cook until the water has been absorbed. Add the next six ingredients in the order listed; return to a boil. Add the instant mashed potatoes as a thickener, stir in vinegar, and serve.


Variations
We though this version of the NOLS classic was great–but if you're not a fan of raisins like neither of us are, you can toss them out of the mix and instead add extra cashews or even Craisins for a little tang.
Got a great backcountry recipe? Send it to leader@nols.edu along with your name, NOLS course, and where the recipe was created. If your recipe is chosen, you'll get a copy on the NOLS Cookery! (Recipe originally published in The Leader as "Variations on a Theme: Improvising With NOLS Cookery" by Libby Gadbois, NOLS Alumni Intern, and Pearson Smith, NOLS Marketing Representative)
William has worked in the past as the web content administrator, social media coordinator, and a data logistics assistant for NOLS.